Wow, wow, wow! This episode worked so well as a potential series finale, I'm not even sure what else we'll get next season!
 Parks and Recreation Season 6 Episode 21 was a force to be reckoned with, closing out a great season in a truly spectacular fashion.
And the viewers get happy endings without that Full House level cheesiness. Let's not underestimate how difficult it is to give every single character a relatively content and complete ending without the episode feeling hokey in any way.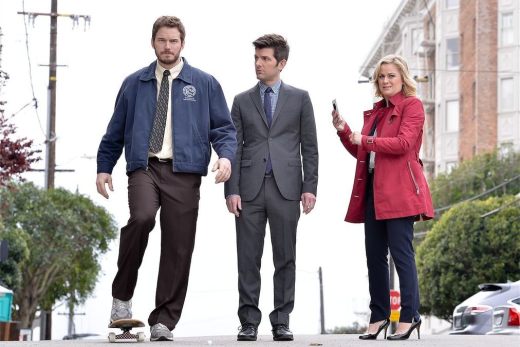 Let's start with Ron, who, at his core, loves privacy and wood-working and hates government. But what he loves more than all those things? His family.

And so, of course, the finale gave him the perfect opportunity to come out as Duke Silver. Diane told him that their girls were never happier than to see Ron on that stage. And even though Ron remains a character obsessed with privacy, his willingness to be open to the love that his family provides - and closed to the type of shenanigans Tammy comes with - demonstrate just how full Ron's heart is at this moment in his life. 

And what about Ben? This episode was brimming with beautifully crafted, small, pivotal character moments. When Barney came in having copyrighted Cones of Dunshire, my heart soared! How amazing for Ben. I can't think of anything more rewarding for his geeky side.

This was a great moment for April and Andy, too. Their love is stronger than ever and I love that April knows just what Andy needs. Mouserat closing the Unity Concert was one of the moments where I felt the most moved in the finale.

And how about Tom Haverford? I like that the soft opening didn't go so well for Tom, which makes sense, since most soft openings are to get the kinks out of the restaurant before the true opening.

So, Tom proves that with great support from his friends, comes great success. I love that in the end, he doesn't necessarily need to have a partner. This is one aspect of Parks that will have me coming back next season. I've got to know how Tom's restaurant is doing.

Now, finally, onto Leslie and Ben. I love that the show went there. Ever since Harry Potter did it, I've been wary of flash-forward scenes. They can be done so, so horribly. But I thought this was perfectly executed! I love that we skipped over the birth of the triplets and went right into Leslie's life as a wife, a mother, and the hardest working person in the National Parks department.

Plus, you know, bangs!

I couldn't be more pleased for Leslie and Ben and two people couldn't deserve happiness more. I guess she really can have it all!

Now, I can't finish this review without at least mentioning all of the fabulous cameos in this episode. Jon Hamm. Ginuwine. And Michelle Obama! Seriously, I couldn't give this one a higher rating. Because television comedy doesn't get better than this. 

Cheers to the perfect ending!

And for those of you dissatisfied, voice your opinion in the poll! Would you have accepted this as a series finale?

Tags: Parks and Recreation, Reviews