Welcome back to the TV Fanatic Grey's Anatomy Round Table!
Our review broke down Grey's Anatomy Season 10 Episode 24, "Fear (of the Unknown)" in detail. Now Christina Tran and Steve Marsi, along with Jarrod Mitchell, are back for a Q&A.
Read their answers to the questions and weigh in with yours!
----------------------------------------
What was your favorite quote or scene from the finale?
Christina: There were so many amazing quotes and scenes, but my favorite was when Cristina said: "I can't go. We have to dance it out. That's how we finish." Ah, dancing it out… one of my favorite pastimes.
Jarrod: I'm probably with Christina on this one. The dancing it out scene was fantastic scene for the two. And Cristina's final words to Meredith: "You are a gifted surgeon with an extraordinary mind. Don't let what he wants eclipse what you need. He's very dreamy, but he's not the sun; you are." Perfect finish.
Steve: My fellow Round Tablers said it best. Since we knew Cristina was departing, it was a fitting end and all that we could have hoped for.
Which surprise interests you more: Cristina left her shares and possible seat on the board to Alex or Cristina's replacement could be Webber's daughter / Meredith's half-sister?
Christina: The latter is making it seem like Grey's Anatomy is potentially becoming General Hospital. I'm more interested in the vacancy on the board storyline. Bailey is going to flip out!
Jarrod: I'm not surprised by either. I expected Cristina to hand them off to Alex. The two really bonded the past few seasons and I knew she'd leave some parting gift. The illegitimate child was something I've been waiting for the writers to drop one day... Ellis's years in Boston had to mean something ...
Steve: The Webber/Ellis child felt inevitable in a sense; if you watch Grey's Anatomy year in and year out, you half-expected it to drop at some point ... and yet still, wow! That was definitely the bigger bombshell, although Cristina's shares and the future of her seat may be more interesting. Tough call!
Which was more shocking: Leah surprisingly showing up or Shane joining Cristina in Zurich?
Christina: Shane leaving Seattle behind made sense. He's always looked up to Cristina. I was more surprised to see Leah and am glad the writers gave us an opportunity to see her in a good light one last time.
Jarrod: I was quite shocked to see Leah go down without a fight. The eye-thing (which was a bit repulsive) just went to show that she is just as much as a gifted doctor as anyone else on this show. Too bad we'll never get anymore development on that character. I'd have like to have seen some Jo-Stephanie-Leah action trio next season with Shane now out the door.
Steve: Leah, if only because I thought Shane departing made perfect sense.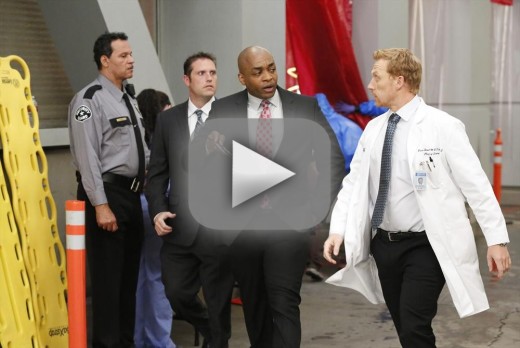 Pen a short farewell to Cristina.

Christina: I'm going to miss you like crazy. GSMH will never be the same again without you, but know that you are never finished – you are Cristina Yang.

Jarrod: Cristina, you've been my favorite surgeon since day one and I can only hope that Zurich can offer you what GSMH could not: safety.

Steve: #GOAT. Nothing else to say.

Which storyline are you looking forward to the most this fall when Grey's Anatomy returns?

Christina: I'm very curious to see what decision Derek makes. No one likes seeing the McDream team (see what I did there?!) fight, but their argument was necessary. Like Cristina said, Meredith should never let what Derek wants eclipse what she needs.

Jarrod: Probably some JoLex. I feel that their relationship didn't get much of a chance this season due to other overshadowing story lines. Hopefully a lot of babies too. I'd like to see Ben and Bailey get a chance at parenthood together, seeing as we're probably in for some Japril and Calzona babies as well.

Steve: With Cristina gone, I'm most interested in seeing where things go for the original characters remaining: Meredith, Derek, Bailey and Alex. All have some very interesting loose ends to be tied up ... or to become looser still.

Meredith is Cristina's "person." This is the first time these two have used that term on Grey's Anatomy.

Tags: Grey's Anatomy, Round Tables