With the unfortunate knowledge that Legit was canceled, going into Legit Season 2 Episode 12 and Legit Season 2 Episode 13 was a vastly different viewing experience than if it was coming back for a third season.
It's always disappointing if a show doesn't get to necessarily bow out on its own terms, preparing for the final act instead of getting the curtain dropped on them. The series ends as is, and obviously on a note that would propel the characters into new stories for the next go around.
So to see Billy returning to his old room that Jim managed to heist him out of in Legit Season 1 Episode 1, to see Steve joining the military and to see Jim attempting to try his hand at stand-up comedy once more (albeit nervously) was kind of a sad outcome, especially topped off with Legit's cancelation.
And yet, we as viewers can only assume that even with Jim, Steve and Billy on separate life courses, that ultimately, the trio would wind back up together again. Because it was those three, even with the ups and downs, that truly made the show and what had me coming back for more.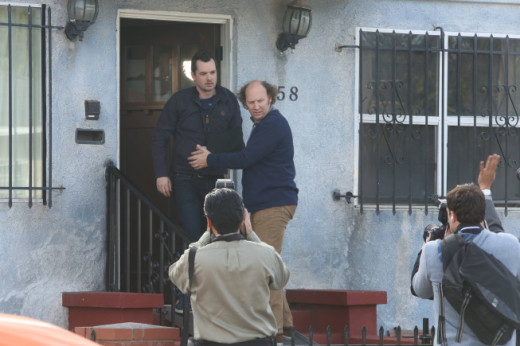 The hour really set things in motion by bringing back the possibility of a Katie and Jim relationship. While her husband made things a bit awkward for the two (but it was Murray from Flight of the Conchords!), for the time being, despite their desires for each other, the two just couldn't be together.
In a way, you wish it could have worked out, but clearly it wasn't going to.
I loved that the will they/won't they took place at a rock n' roll party with some great Beatles getups, discussions about drinking at a party and Rodney doing some mysterious things in one of the bedrooms. But who does heroin just casually?
And I'm glad that Steve was back to sober, he's much better that way, even if he did wind up shooting Jim.
Sure, the concept of having an opinion such as gun control (and one so relevant right now) could piss a lot of people off. And I'm glad the episodes touched on that, whether or not you agreed with Jim's view.
If anything, having an opinion and touching on subjects many won't discuss is Jim's specialty. Without it, he's just not Jim. There is no "clean" version, and I like that.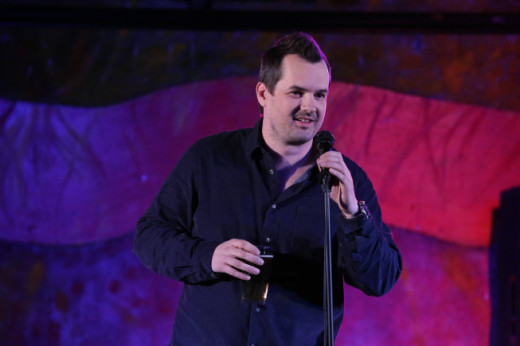 Really, it was great to see Jim do some stand-up on the series. I'd been waiting to see him do it, rather than just be discussed, and he seemed to really fall into a natural mode that was less of a scripted scene and more of an off-the cuff actual stand-up routine.

But it was a unique twist, one I didn't even think of but made sense when revealed, that Steve shot Jim.

However, the fight with Steve being the last time the three were together was bittersweet. I really just wish it could have been resolved for them.

At least Billy was able to give a passionate speech to Jim about his insulting comments about not going to do stand-up when he can't do the thing he loves because of his condition.

Time and again, Legit has truly made Billy a character worth caring about, touching on his muscular dystrophy, but never having it define him. And kudos to DJ Qualls to brining Billy to life in that sincere and meaningful way, all with the occasional penis joke.

And that could be said about all three of the main characters.

Jim Jefferies, Dan Bakkedahl and Qualls made Jim, Steve and Billy a trio you wanted to hang out with each week. Sure, there was a lot of crazy, toe curling stuff, but at the group's core, at the show's core, was some real heart.

And no cancelation could take that away.

Sean McKenna is a TV Fanatic Staff Writer. Follow him on Twitter.

Tags: Legit, Reviews