Game of Thrones Director Speaks on "Big Shift" in Season Finale, Rise of the Starks
by Matt Richenthal at . Updated at . Comments
The children had the final say on Sunday's Game of Thrones Season 4 finale.
From the Lannisters to the Starks, the offspring of important Westeros parents sought revenge, took on new challenges... and fired arrows into the chests of their fathers while he sat on the toilet.
Speaking to TV Fanatic in an exclusive interview after Game of Thrones Season 4 Episode 10 aired, director Alex Graves said he couldn't imagine a worse death for someone such as Tywin than the one he suffered at the hands of Tyrion's crossbow.
"Oberyn died a horrible and shocking death," said Graves, who also directed the battle scene in Game of Thrones Season 4 Episode 8. "And this was the equivalent of smashing Tywin's head, in terms of smashing his ego."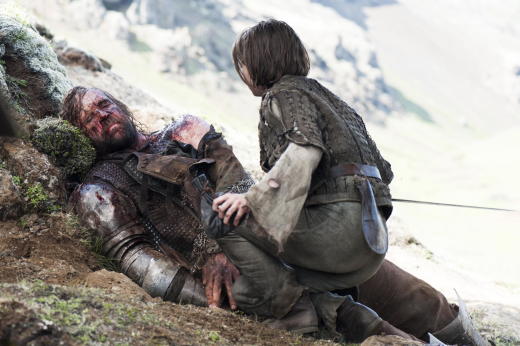 Did Tyrion enter that privy with the intention of killing his father?

"I talked with Peter [Dinklage] before filming that scene," Graves explained. "And we discussed how Tyrion knew he ought to just leave King's Landing, but felt he had to come back and say what he said: that Tywin was aware he didn't kill Joffrey and still set him up to die for it."

He added: "Tyrion was in an extremely unstable state, dealing with a brilliantly manipulative father… and one of Tywin's great faults is that he doesn't respect women. That ended up being his fatal fault in this case."

The other example of a child killing an elder took place when Arya left The Hound to die a painful death after his brutal battle with Brienne.

And The Hound is dead, right? Even if viewers didn't see him expire?

"I filmed it with that in mind, but the focus for me was about showing Arya leaving, not The Hound dying," Graves said. "Arya is moving on alone now, that was meant to be the main takeaway."

She moved on, of course, without granting The Hound's wish for a merciful killing, something the character tried to make happen via a series of venomous taunts.

"I told [actor Rory McCann] during shooting that he's saying all that really mean stuff, but what he's really saying is 'I love you,'" Graves said.

And why didn't Arya reciprocate with a sword to The Hound's chest?

"She more like her mother than her father," Graves said. "And he was on her list."

Tyrion is now a free man. But he has a deadly mission in mind before he sneaks away.

Graves is not scheduled to direct any episodes for Game of Thrones Season 5 because the time commitment takes him too far away from his family for too long a period of time.

But he teases that a lot of what took place on the finale sets up the back half of the books and moves pieces into place for many new storylines.

"The episode was called 'The Children,'" he said. "Sansa is now Lady of the Eyrie. Jon Snow is becoming not just another member of the Night's Watch with Stannis invading. Arya is on her own. The Stark Children are on the move anew. It's a big shift."

Matt Richenthal is the Editor in Chief of TV Fanatic. Follow him on Twitter and on Google+.

Tags: Game of Thrones, Exclusives, Interviews