Sexy and smoldering returned this week. Toni was nowhere to be seen and Kira was out on her pretty, little derierre.
Still, Mistresses Season 2 Episode 4 felt a little slow.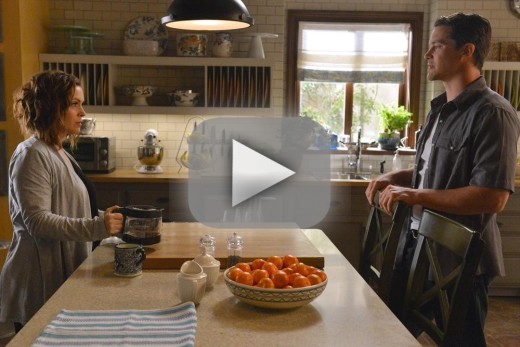 Let's start with the handsome stranger knocking at Savi's door. Long, lost brother? Serial killer? No.
Zack Kilmer was the other driver hurt in Savi's car accident. And much like Savi, I thought he was there to ask for some cash. But apparently we were both wrong. Zack was just looking to make a connection, which could end up being even more dangerous. 
What kind of connection has yet to be determined and I still don't know if I trust this guy. At least he pushed Savi into talking about the child she'd lost. I'd been wondering about that and it broke my heart when she knew it was a girl and admitted she had bought a crib and clothes and had names picked out. 
The only problem I had with that entire conversation was that she should have been sharing it with Dom. He lost that baby too. Instead, Savi is forming a connection with Zack and no good will come of it. 
Dom impressed me this week. First off, he's looking hotter than ever. Secondly, he decided to take he and Savi's relationship public and then he even manned up and told her about Toni. Dom's working hard to make things right between he and Savi. The problem is... I'm not sure she's doing the same.
The only woman worse off than Savi is Karen. She's such a train wreck and just when you think it can't get any worse, it does. 
Karen's lonely and still trying to deal with the trauma that was the Greys. So why not bail on seeing her shrink and become an escort? Seriously, people actually pay this woman for her advice. If they only knew.
Joss and Harry attended a charity event and not only were they at their charming best but for the first time I actually liked Kira! The girl was hysterical. She set Joss up on a date so blind that she failed to tell Joss about it. 
How could you not like Scott. OK, I'll admit that the plastic surgeon thing can be a bit intimidating but he really was as adorable as a Labradoodle and a love of pretzel rolls is always a plus. And in honor of what may be Kira's final appearances, here is her Mistresses quote about the good doctor…
Three words. Free Botox.

Kira
Perhaps she needed to count on her fingers to realize that's only two words. I think that was Harry's aha moment. And just when I started to appreciate Kira's better attributes. 

Thankfully sexy, smoldering Daniel was back in town and back in April's bed. Funny enough, he wanted to get out of her bed and meet her friends. That seemed like a good sign of things to come…until the phone call from Jessica.

So tell us what you think, TV Fanatics. Who is Jessica?

C. Orlando is a TV Fanatic Staff Writer. Follow her on Twitter.

Tags: Mistresses, Reviews