Reign stars Toby Regbo, Megan Follows, Adelaide Kane were joined by executive producer Laurie McCarthy today at Comic-Con, teasing a number of topics related to various characters and upcoming developments.
To wit: Should fans be nervous about Francis and Mary's marriage?
McCarthy said the union will be "going well" when we meet back up with the couple in October, but "political" and often "horrific" obstacles will plague the betrothed.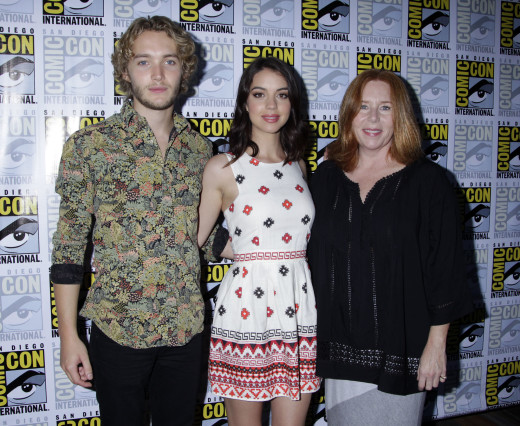 And speaking of the plague...

"This disease will affect Court "with a vengeance," McCarthy previewed, adding: "Not everyone will survive it, among our people as well as a percentage of the regional population."

Look for those deaths to begin on the Reign Season 2 premiere.

"What rises from the ashes of the plague" will be of note, the producer teaser: "It's about [Francis] inheriting a nation that is, in fact, burning."

Look for an "awkward" set-up between Francis, Mary and Lola following the birth of Francis and Lola's child, Kane said, while the relationship between Mary and Catherine will remain tense because "there isn't enough power to go around," Follows explained.

Mary isn't, overall, a fan of sleeves. This gown proves she can pull them off without worrying whether they will age her, as they still show off some skin with the mesh inlay. The rose and gold brocade fabric is perfect for a picnic, as it sets her out like a flower against the foliage.

"Season 2 is very much about what goes on beyond the castle walls," said overall, with the Mary/Francis/Bash love triangle still alive and kicking.

"They'll always have a special relationship," Kane said of Mary and Bash in the future. "I just don't think they'll bang."

Reign Season 2 premieres on Thursday, Octoner 2 at 9/8.

Matt Richenthal is the Editor in Chief of TV Fanatic. Follow him on Twitter and on Google+.

Tags: Reign, Spoilers