Dina Manzo returned to The Real Housewives of New Jersey Season 6 Episode 1 - and she's feeling pretty zen these days.
 We recap her best lines, the return of the Guidices, and the newest Jersey girls in our +/- review...
Yup, after a 10 day trip to Mongolia, Dina Manzo's feeling pretty zen. Well, that is until you f**k with her.  Or as she put it so succinctly, "The bitch is back and if you don't like it you can kiss my ass."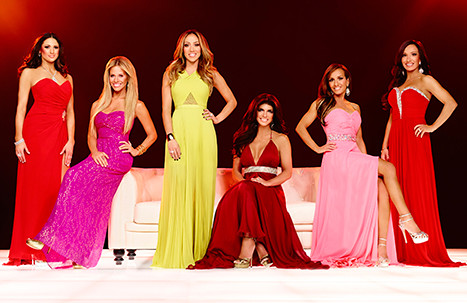 Way to keep it classy, Dina. Of course, on this show, that's not really an issue so plus 20 for setting us straight right from the beginning.
Of course her husband Tommy is another matter. Basically, he's openly cheating on her and they're officially separated but still sleeping together. 
But Dina describes the situation in her own special way in this The Real Housewives of New Jersey quote…
Tommy just has these little situations where these girls fall in love with him and maybe he'll buy them a pocketbook and they think he's a god. He just doesn't know like, sometimes there's a line. If they're young with big tits, you shouldn't really be doing that.

Dina Manzo
Does that mean if they were only young, or older but had big ti…oh nevermind. 

Minus 30. What it all means is that Dina's having ex-sex because she's too afraid to get naked with another man while her husband runs around buying purses for every hot, young thing with big…you get the picture. 

Oh, and did we mention she can't wait to have a baby with him because her daughter's going to college and all she has left are her "f*cked up" pets? Her words, not mine. Minus 50. 

When asked about her sister, Caroline Manzo, she gives a massive eye roll but she's handing pseudo-sister Teresa Guidice guardian angel bracelets. Plus 18. Teresa's going to need it. 

As Teresa and Joe await a plea deal to find out how much jail time they'll be doing, Teresa's busy writing "Fabulicious Desserts" to try and pay off the lawyer's fees and put something in Gia's college fund. 

My guess, Teresa could probably pay for a lot of tuition if she sold off her designer purse collection. 

Teresa's worried about how all this is affecting their children. Well, Gia's still welling up in tears and hoping to be the real life Meadow Soprano to help her daddy. Plus 12. Girl's got to have goals. 

Then there's Milania who tells the hairdresser her butt's too big and that she's the worst ever and delivers charming lines like, "Shut your butthole." Her parents must be so proud. Minus 43.

On to the Gorgas who spend most of the episode retelling how all of the horrible drama with the Guidices is now water under the bridge and they're all closer than ever. Who's up for a big group hug? Plus 10.

Everyone heads over to the home of Melissa's old friend and the newest housewife, Amber Marchese. She's a control freak with a weaselly husband who carries a dead pig into the house to scare their "four freakin' kids." We're feeling the love.

Drinking her wine through a straw was a nice touch. Minus 11.

Amber and Melissa haven't seen one another in years and Amber not-so-subtly accuses Melissa of dissing her after her breast cancer. Melissa looks at her dumbfounded. You had cancer? Amber swears Melissa sent her a Facebook message wishing her well but conveniently deleted it. 

We smell made up drama. Minus 22.

Then there are Amber's two friends, the twins. Nicole and Teresa. Yeah, another Teresa but this one is Ter-eh-sa not Ter-ee-sa. Got it? 

We're already annoyed and it's only her first episode. Minus 25. 

Ter-eh-sa married/divorced/and remarried husband Angelo. He tells circumcision jokes at parties. Who would want to give that up? Minus 13.

Her sister Nicole's is divorced and dating Angelo's best friend, Bobby. So far Nicole's deepest thought seems to be, "A woman only needs two things: Dunkin Donuts and oral sex."  

But there are parts of the country where you can't find a Dunkin' Donuts! What do those poor woman do?

And the new season has begun…

Episode total = -133! Season total = -133!

You tell us, TV Fanatics. Which Dina Manzo line was your favorite?

C. Orlando is a TV Fanatic Staff Writer. Follow her on Twitter.

Tags: The Real Housewives of New Jersey, Reviews, Reality TV