Thirteen candles for Conner! Yep, not only did Abby and Ray forget Conor's birthday completely, the cake was misspelled and there were only 13 candles on the cake. I counted several times.
It's hard to understand why Conor decides to have a family birthday party when he could have had just about anything coming from that sweet spot. Then again, Conor has a way of pissing off his friends.
So it was that Ray Donovan Season 2 Episode 7 showed the dysfunctional Donovan family at their absolute worst, with hints of how great things could be.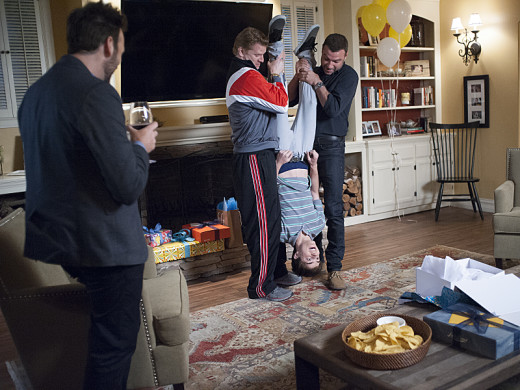 Abby chose not to sleep with Jim, but did spend the night out. Since Bridget said Abby came home at 2 a.m., Abby apparently went to a hotel in the morning, just before she learned it was Conor's birthday.

Pretty much anything that could go wrong in the Donovan family went down on Conor's big day.

Conor insisted Mickey be invited, and Mick bought Claudette, with Daryll driving (Put on your cap!). Bunchy took one of his SNAP friends, who is gay and who later kissed Bunchy, making him question everything. Terry forced the conversation about selling Fite Club and moving to Ireland only to learn Ray had made him a criminal by laundering money through the business for years.

Considering how little business they actually do, how did Terry think it was making any money? I suppose you don't see what you don't want to see until it's too late to do anything about it. Frances still has to keep her mouth shut about the murder, as Terry was as involved as the rest of the Donovans.

Reminding us that Mickey lives with his head up his own ass, he danced the night away with Claudette like nobody was watching and gave his grandson a car that he had clearly already given to Daryll. It's difficult to understand how stupid Mickey can be sometimes, but that move was pretty obnoxious. At least (after it was destroyed by Daryll) Conor gave it back to Mick. He's only 14, after all. 

Bridget delivered the news about Abby during the party, and we got a scene (from Director Liev Schreiber) that looked like something out of a fun house. Cheating is just fine, as long as he's doing it. The thought of Abby stepping out on him literally shook his foundation.

Kudos to Schreiber for doing one of the best drunk impersonations I've seen in a long time; that hard stomping stumble you do when you're not quite certain your feet will take you where you want to go, but you're drunkenly determined to get there anyway. Very good stuff!.

After it all fell apart, Ray called Kate and asked her to come back (I knew he really liked her), Abby went to Jim and cried on his shoulder, Mick drove Claudette and Daryll home in the ruined car, Bridget left with Marvin and Conor, well, he just decided to enjoy himself.

Things didn't turn out too badly for Conor, after all. He got his family birthday, Ray gave him a gorgeous watch and when he thought he had the house to himself, he started drinking some champagne, eating cake with his fingers and listening to some tunes. 

Finally we got to see a true moment between Ray and Conor. First of all, exactly why everyone is always drunk but not one of them enjoys it is a mystery. Conor set the stage for things to be a little different. Pop on some RUN-DMC and Aerosmith, "Walk This Way" and, dammit, enjoy each other. Ray finally letting go and enjoying the moment with Conor by dancing their hearts out was one of my all time favorite Ray Donovan scenes. 

You just have to take life's little pleasures where you can get them, because it will always seem like the world is crumbling down around you if you let it. The party's over... or it's just begun.

Carissa Pavlica is the managing editor and staff writer for TV Fanatic. Follow her on Twitter and on Google+.

Tags: Ray Donovan, Reviews