It was another stellar episode that pulled away from the Truman's extracurricular activities while they were reminded about what's important to them -- each other.
In Satisfaction Season 1 Episode 7 Neil finally reached his breaking point. All the pain he had felt over learning about Grace's affair rose up after he realized another man had seen her naked. This he could talk to her about without jeopardizing their marriage.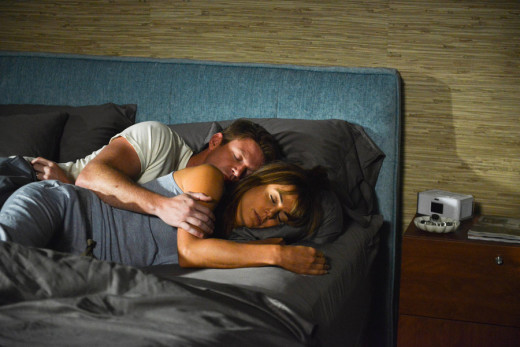 It's funny how seeing another couple deal with their issues can make you rethink the way you deal with your own. When Neil and Grace witnessed the embarrassing public display on their neighbors front lawn, they kind of felt sorry for them. But when Neil boasted about their own marriage, they came close to their own argument.
Neil: My point is that we don't have to have those petty arguments to solve our problems. We just talk them through.
Grace: Mmm hmm.
Neil: Don't we?
Grace: You never really want to talk.
Neil: I try.
Grace: You do. You try.
Neil: You don't always want to talk.
Grace: You don't always listen.
Neil: Are you kidding me?
I loved how Neil wound up making the extra strong coffee Grace dislikes as his final, petty poke at the situation. 

Later when Lawrence told Neil what they witnessed was a sign of their healthy relationship, Neil wasn't convinced. But it made sense. If you don't care enough to get upset about the little things, then what happens when something big occurs? Like, say, an affair?

The whole introduction of Lawrence made great sense in the scope of the series and gave Neil the push he needed to break out of the padded room he put himself in by immersing himself in the escort business instead of dealing head on with the fact his wife cheated on him.

When Lawrence saw that photo and showed it to everyone and Neil was caught off guard -- again -- it was like something snapped. We also learned that Grace just wanted Neil to care about her life, to get a little jealous, for him to beat his chest a bit and claim her as his woman. It's silly, but stuff like that really does make you feel wanted when it's not done to excess. 

Meanwhile, both Simon and Anika were exploring their versions of happy, healthy committed relationships in different ways.

Adriana has some wicked contacts open doors at prisons for her johns and janes to masquerade as spouses for conjugal visits. If you think the only pockets she's padding are at the door near their cells, think again. Getting a conjugal visit isn't easy so she's greasing a lot of palms.

None of the married women Simon sees have made him think like a woman locked up because she was still in love with her husband. He can accept an unhappy wife buying his time, but it was difficult for him to wrap his head around how she would tell her husband about it when they reunited. For her it's simple. They'll forgive each other for what they had to do to get through until they say each other again.

Simon says that doesn't look like love to him and she responds that it may not look like it, but it sure feels that way. He's still thinking about it when he removes his fake wedding band at home. Do you think he'll start seeing his dates in a new way?

While Grace was recapturing her youth at the college, Anika and Mateo found each other and sang in the street for money. He's a really sweet kid who wants to be her boyfriend, not interested in pushing her any farther than she's willing to go after a rocky start. I wish we had seen how their meeting ended in the dorm room, but I was proud of how Mateo stood up to her parents and announced himself as her boyfriend.

Their song is perfect for the series, as they sing about a risk worth taking. When Anika expresses excitement over the amount of money they made, he points out that they're better off as a team. It's nice that at least one couple takes that view.

Last week it was really easy to jump to conclusions about what might happen this week, and even though there is still a very taut line of tension between Grace and Dylan, what the preview showed was completely innocent. 

Sadly, the Trumans found each other again just as one of Neil's clients found him, as well. And this one has a husband who doesn't like what she did. Neil can probably understand what he's going through. We're leading up to the point where real secrets are going to be revealed.

Considering their burgeoning feelings, perhaps it was a risk worth taking. Let's just hope the reward outweighs the risk. Have they bonded enough to weather the coming storm or will they break apart? Grace might have a chance to study design in Milan, Could that be where things are heading to give them a cooling off period? Would they even trust each other enough to spend time apart and remain together?

So many questions! What piqued your interest? Did you enjoy the break from Adriana? I was kind of surprised we didn't get a follow up to the steamy encounter that happened last week. Maybe that was enough attention from Neil to satisfy Adriana for now. Go ahead. Hit the comments!

If you have missed any episodes, watch Satisfaction online. This is must see adult TV!

Carissa Pavlica is the managing editor and staff writer for TV Fanatic. Follow her on Twitter and on Google+.

Tags: Satisfaction, Reviews