Desperate Housewives Season 2 Episode 6: "I Wish I Could Forget You" Photos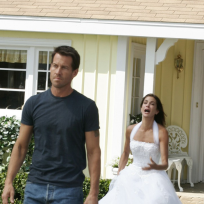 Added:
Displaying 1 photo
Around the Web
Want more Desperate Housewives?
Sign up for our daily newsletter and receive the latest tv news delivered to your inbox for free!
(narrating) Yes, every little girl dreams of a big white wedding. But some dreams just don't come true.

Mary Alice
David: What the hell is this? I thought I told you to dress maternal.
Gabrielle: Yes, you did, and I considered it for about a second.
David: What happened?
Gabrielle: David, I know you're the lawyer and all, but if you ask me, it's never a smart strategy to cover this up.
David: We've got 40 minutes before the pre-trial hearing. Let's go home and get you changed.
Gabrielle: What?!
David: You want to get your husband out of jail? Got to dress like a pregnant, suffering wife, not the cover of Vogue.