Family Guy Season 6 Episode 8: "McStroke" Photos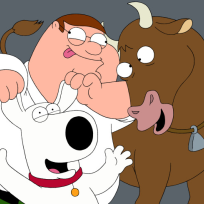 Added:
Displaying 1 photo
Around the Web
Want more Family Guy?
Sign up for our daily newsletter and receive the latest tv news delivered to your inbox for free!
(after the the judge rules in favor of McBurgertown industries)
Peter: What!? Hey c'mon, that's not fair!
Judge: Well Mr. Griffin, what did you expect? They have a hundred lawyers. And you tried to bribe me with a subsription to Grape Soda Today, which I already have!
Peter: Black mail call!
Lois: Peter, you were supposed to collect Cleveland's mail, not go through it.
Peter: Lois, black people aren't like you and I, and I find that hilarious!