TV Fanatic Works Better with Prime Instant Video
40,000 other titles are available to watch now.
Family Guy Season 5 Episode 2: "Mother Tucker" Photos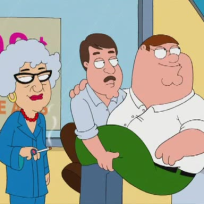 Added:
Displaying 1 photo
Around the Web
Want more Family Guy?
Sign up for our daily newsletter and receive the latest tv news delivered to your inbox for free!
Jake Tucker: What's your problem?
Peter: Papa Tom's being a jerk.
Jake Tucker: At least he talks to you. He hasn't paid attention to me in weeks!
Peter: Well, all in all, I think you should be grateful. I heard the Kennedys had a kid like you once, and they had it put to sleep.
Announcer: And now back to "Round Table" with Al Michaels, Harold Ramis, Ray Romano, and Kermit the Frog.
Kermit: These Zoning Laws are infringing on the rights of...
Harold Ramis: Uh, if I might interrupt for a minute, I'd like to point out...
Al Michaels: You've had your time, let someone else speak.
Harold Ramis: I haven't said a word, it was that guy (points to Ray Romano).
Ray Romano: Don't look at me! I can't get a word in edgewise.
Kermit the Frog: Well then who the hell's been talking this whole time (they all begin to argue)?