Family Guy Season 5 Episode 14: "No Meals On Wheels" Photos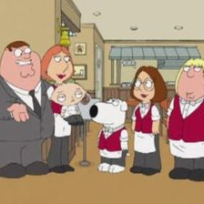 Added:
Displaying 1 photo
Around the Web
Want more Family Guy?
Sign up for our daily newsletter and receive the latest tv news delivered to your inbox for free!
Lois: (Walks into bedroom and hears Peter laugh.) Peter? I know you're in here.
Peter: Yes I am Lois... (High pitched) But where?
Lois: Peter, if you shock me, I swear to God I'm leaving you. Peter: You have to find me first Lois. (High pitched) Where could I be? Lois: Well there's a Quonset hut that I've never seen in this room before. I gotta figure you're in there. Peter: How do you know, Lois? I could be in that New York Style magazine kiosk. Lois: Peter, this all looks very expensive.
Peter: Yes, you might say it was... shockingly expensive. Lois: I'm going to try the Quonset hut. (Peter comes from behind and shocks her.)
Peter: (Laughs) I was in the bathroom. The hut and the kiosk? Decoys, Lois, decoys! (Laughs and runs)
(Peter is buried under Joe and his friends)
Peter: Ben Stiller, help me!
Ben Stiller: No, Peter. I heard what you said about my movies.
Peter: How?
Ben Stiller: (points at his ears) Hello?!
Peter: Ah, go to hell, you mutant offspring of comedy people!