Friends Season 2 Episode 4: "The One with Phoebe's Husband" Photos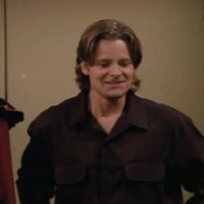 Added:
Displaying 1 photo
Around the Web
Want more Friends?
Sign up for our daily newsletter and receive the latest tv news delivered to your inbox for free!
Rachel: Let me tell you something. As a woman there is nothing sexier than a man who does not want to have sex.
Ross: No kidding?
Rachel: Oh yeah. In fact you know what I'd do?
Ross: What?
Rachel: I'd wait.
Ross: You'd wait?
Rachel: Yes, absolutely. I would wait and wait... then I'd wait some more.
Ross: Really?
Rachel: Oh yeah, I don't care how much she tells you she wants it, I don't care if she begs, she pleads, she tells you she's gonna have sex with another man. That just means it's working.
Ross: Women really want this?
Rachel: More than jewelry.
Ross: (About Chandler's third nipple) So what's it shaped like?
Phoebe: Yeah, is there a hair on it?
Joey: What happens if you flick it?