The Simpsons Season 3 Episode 19: "Dog of Death" Photos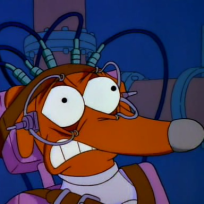 Added:
Displaying 1 photo
Around the Web
Want more The Simpsons?
Sign up for our daily newsletter and receive the latest tv news delivered to your inbox for free!
Veterinarian: This is the part of the job I hate the most. (Tosses hampster into trashcan with mini-basketball hoop)
Homer: Hey, you did the best you could.
Veterinarian: I love animals. I spend my life saving them and they can't thank me. Well, the parrots can. Let's see what's wrong with this one.
Homer: (about Santa's Little Helper) Aw, how come he gets meat and we don't?
Marge: You wouldn't want what he's eating, it's mostly just snouts and entrails.
Homer: Mmmm, snouts.