The Simpsons Season 18 Episode 14: "Yokel Chords" Photos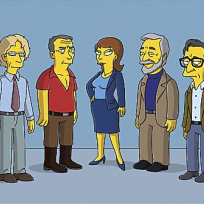 Added:
Displaying 1 photo
Around the Web
Want more The Simpsons?
Sign up for our daily newsletter and receive the latest tv news delivered to your inbox for free!
(at therapy)
Apu: He used to rob me two, three times a week. Now, I'm lucky if I get it once a month.
Snake: He never initiates it; I have to do all the work. He just stands there.
Lisa: My name is Lisa. What are your names?
Yokel Child: Whitney.
Yokel Child: Jitney.
Yokel Child: Dubya.
Yokel Child: Incest.
Yokel Child: Krystalmeth.
Yokel Child: International Harvester.
Yokel Child: Birthday.
Jitney: Awwww, are we gonna do this much work every day?