Two and a Half Men Season 5 Episode 11: "Meander to Your Dander" Photos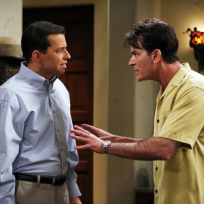 Added:
Displaying 1 photo
Around the Web
Want more Two and a Half Men?
Sign up for our daily newsletter and receive the latest tv news delivered to your inbox for free!
Jake: In ultimate fighting they kick, they elbow, they get a guy down and smash his head in the floor. These guys just dance around and barely hit each other.
Charlie: Okay, okay, listen to me. Boxing is a science. Boxers don't just wail on each other: they strategize, feel each other out, wait for an opening.
Jake: Gay.
I once handed a date my Visa so she could pump gas for me, and on my next statement, there were charges for a boob job and a PlayStation 3. And I never got to play with either one of them.

Charlie