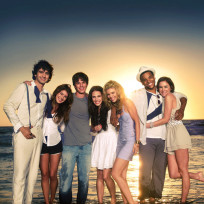 sixonfanatic
I watch 90210, and started One Tree Hill. I've seen all of The O.C. episodes, so if you have any questions ask. I like The Big Bang Theory and How I Met Your Mother. Not interested in anything else atm. I like all shows, it depends on my mood and if I really like the show that I am currently watching, which is 90210 and I love the teenage drama so I watched all of them untill it stopped and will be relaunched on Jan 10th after the break. That's why I started One Tree Hill and can't wait for Lucas and Brook to hook up, the shy basketball kid with the school's slut* pardon my language but its true. Anyway, if you have any good teenage drama suggestions like 90210, One Tree Hill or The O.C. please do tell, but I am looking for something modern, not like Beverly Hills 90210 that was like 30 years ago, something that is still present. Well I have lots of more things about me, but I can just tell you if you like to know, so pm me if you want to do some fanatic-chit-chat, I'm up for it :)   BTW Silver and Dixon from 90210 are like the best couple, in the category with Summer/Seth and Ryan/Taylor from The O.C., and yes I hate Marissa Cooper. Right now I'm watching Gossip Girl, season 5 and loving it, especially Dan and Blair's relationship.
Member Since:
Favorite Shows
20 Forum Posts
Scratch the second one, Annie and Riley ;D
Silver and Dixon everyone. I'm telling you, they're end-game type couple. Even though the show may not make it seem so, it looks pretty good. Silver is no longer having Teddy's baby, and I think Adrianna will do something to blow Megan off, thus piss off Dixon and Ade will end up doing some world tour or something. Dixon is stressed out, goes to a club where Naomi takes Silver out to have fun with, due to her marrige councelor saying so. They get drunk, because of their current state of depression. They hook up, Silver finds out she's pregnant, old sparks ignite. ONE THING LEADS TO ANOTHER, WELCOME FOR THE VERY FIRST TIME MR AND MRS WILSON-SILVER. WAAAAAAAH. GAME OVER! Make this happen
Silver and Dixon
Annie and Liam
Namoi and Max
Want more ?
Sign up for our daily newsletter and receive the latest tv news delivered to your inbox for free!