J.D. Quotes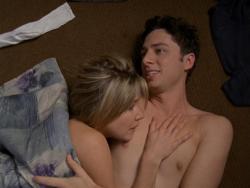 Season 9, Episode 9: "Our Stuff Gets Real"
J.D.: Ooh motel sex? It's like I'm a senator and your a tobacco lobbyist. We should arrive separately.
• Rating: 5.0 / 5.0
J.D.: Denise brought some non-alcholic beer.
Denise: Yeah, I got it for this dude I'm railing, he used to be an alky.
Drew: Not an appropriate time to bring all that up, but there it is.
Cole: And I brought some sensual body chocolate. What's the situation with the big old D's? Got any milk yet?
• Rating: Unrated
J.D.: Elliot, do you think there's a Patrick Dempsey movie I haven't seen?
• Rating: 5.0 / 5.0
Elliot: Turk also said that Knight Rider is a documentary.
J.D.: It's based on fact, everyone knows that.
• Rating: 5.0 / 5.0
J.D.: All the baby books say we'll be back to our normal sex life in about six weeks.
Turk: Those baby books are filled with lies. You don't know, it's crazy. You're gonna be changing diapers covered in spit up. You're not gonna have sex for a long, long, long time.
J.D.: No hide the penny?
Turk: No.
no me girl, you boy
Turk: No.
J.D.: No dirty Zulu warrior?
Turk: No, and that one's racist.
J.D.: There'll still be cuddling, right? Please tell me there'll be cuddling. I'm a man, I have needs.
Turk: She'll have a baby to cuddle with.
Turk: That bastard.
• Rating: 5.0 / 5.0
Elliot: What is that?
J.D.: It's our baby's crib.
Elliot: It looks like a trap. You trying to catch someone else's baby?
• Rating: 5.0 / 5.0
Season 9, Episode 5: "Our Mysteries"
J.D.: They need me.
Cox: Do they? I remember not holding your smooth, baby hands and you didn't turn out that bad.
• Rating: Unrated
Turk: Okay, let me hack into the medical school files.
J.D.: You can hack?
Turk: No I have a password. It sounded cooler.
• Rating: 5.0 / 5.0
Turk: It's your last day of teaching, what do you want to do?
J.D.: I don't know, old friend. I've left so many times, I've come back so many times. Even I'm confused. I think we're going to have to sit this one out.
• Rating: Unrated
J.D.: Part of me will always be with you, here [touches head] and here [touches stomach].
Lucy: My stomach?
J.D.: I would have touched your heart, but I did that to another female student once and it resulted in me watching a four hour video called "boundaries."
• Rating: 5.0 / 5.0
Are we missing your favorite quote from "?" Submit it here and get points for adding quotes!
Total Quotes: 1681