Doctor Who Episode Guide
Danny Pink and the Doctor are on course to meet while Skovox Blitzer prepares to destroy mankind on Doctor Who.
The Doctor tries to break into the most dangerous bank in the Cosmos on Doctor Who.
Ghosts of the past and future crowd the lives of Clara and The Doctor on their latest adventure. Read on for a recap.
The Doctor discovers an evil plan behind the stars and strikes up an unlikely alliance with Robin Hood of Sherwood Forest!
The Doctor is the only one who can help when a Dalek fleet surrounds a rebel ship on Doctor Who.
When The Doctor heads to Victorian London there are dinosaurs wreaking havoc along the Thames.
It's the Doctor Who Christmas special! This will mark the final appearance of Matt Smith in the title role.
Welcome to the special Doctor Who 50th anniversary special. This episode brings together many old stars of the show.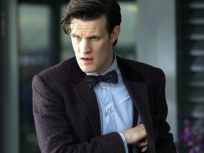 Doctor Who wraps up Season 7 with an aptly titled finale this week: The Name of the Doctor.
This Doctor Who episode features the Cybermen. It marks their first appearance in over a year.