Hawaii Five-O (Page 2)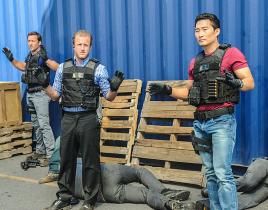 Is there any kind of ancient philosophical concept that describes the state of finding a TV episode to be convoluted as all get-out, but also supremely ent...

Well, that was pretty down and derby, am I right, guys? Sorry, sorry. I'm just making some cheesy jokes in the spirit of "Na Ki'i (Dolls)", a delightful ep...

Attention, CBS fans: set your DVR and plan your nights out accordingly. The network has announced the following season finale air dates… Sunday, Apr...
I'll admit it: as someone who has attended Super Bowl parties only because they are a place where it is socially acceptable to eat your weight in guacamole...

Being single on Valentine's Day isn't a crime. But some of our favorite unattached TV characters could certainly use a special visit from Cupid today. Chec...
As the greatest minds of our generation have said, time and time again: the first rule of fight club is that you do not talk about fight club, not even if ...

I hope you used your week off to rest up, folks - because "Hookman" was all about action, action, gun control debates, action, prosthetic arms, creep...

Like an order of sweet-and-sour chicken, "Hana I Wa'la (Scandal)" satisfied all our conflicting urges at once. Looking for action? We had some serious, sea...

After a strong mid-season return last week, "Olelo Ho'opa'i Make (Death Sentence)" veered all over the place - one moment, impressing with gorgeous fight c...

"Kapu (Forbidden)" featured the first-ever usage of technology that let viewers vote on the ending of a TV show as it aired - and that alone would have bee...