Survivor Episode Guide
The Survivor castaways face an immunity challenge titled "Odd Shaped Bottoms" on this episode.
Allegiances are thrown into question on this week's Survivor, as one tribe member makes a bold move at tribal council.
A medical emergency takes center stage on this episode of Survivor: One World.
It's an all out basketbrawl during the immunity challenge on Survivor this week.
Whether it was the craziest or worst tribal council you've ever seen, it was inarguable interesting. Read our recap to find out what happened.
After surviving a brutal two days of weather, the survivors compete in a dramatic immunity challenge which reshapes the game.
Colton and Kat dominate a very aptly named episode: Total Dysfunction.
Survivor: One World began with two big twists. Read our recap for a rundown of the changes.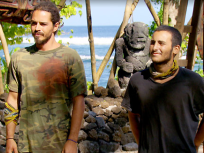 It's down to the season finale of Survivor. Who will win the grand million dollar prize?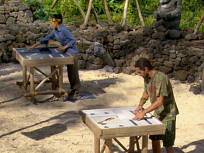 The title of this episode says it all. Only five castaways remain.