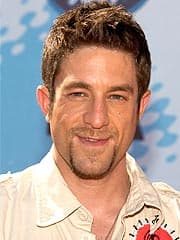 Yesterday, American Idol Worship pondered why it is taking so long for this season's third-place finisher,
Elliott Yamin
, to sign a recording contract.
It appears we weren't the only ones wondering just that, as People magazine reports today that the 28-year old is fielding a couple of offers.
"He's entertaining offers. There are two companies interested," a representative from Yamin's management company said.
Yamin, who lasted longer than many thought he would in Season Five on the strength of his voice (imagine that) rather than a catchy marketing hook, is featured prominently in the current American Idols Live tour. In turn, speculation from fans over when and if they'll be seeing an album from the Richmond, Va., product has run rampant.
"Elliott is involved in a lot of charity work and has put a lot of time into that and then went straight into the Idol tour," the singer's rep said. "It's hard to entertain offers while he's been on tour, and he's just waiting for the right offer. He's got a few things in the works and will have something firmed up very soon."
With winner Taylor Hicks, runner-up Katharine McPhee, popular Chris Daughtry and adorable Kellie Pickler all under contract already, this is great news for Yamin's fans.
It appears as if Elliott has become rather adept at bringing up the rear, if you will. During the Idols' trip to meet with President Bush at the White House last Friday, Yamin came sprinting into the room, five minutes late, wiping his forehead and exclaiming, "Phew!"
The reason for his tardiness?
"He was sleeping," fellow Idol finalist Ace Young said.
Yamin later described the incident to his hometown Richmond Times-Dispatch.
"I had press to do this morning. My sleep was interrupted, and I was trying to make up for it," he said. "The tour manager called me at the last minute and said, 'We'll have a taxi to take you there for the photo.' And that's what I did."
Matt Richenthal is the Editor in Chief of TV Fanatic. Follow him on Twitter and on Google+.