She really does. The supermodel and host of the Tyra Banks Show recently welcomed our man Clay to her set. The two clearly hit it off, and we'll get to see that on November 22, as we reported yesterday, when the program airs. But in the meantime, here is what Tyra had to say about the former American Idol runner-up (and his amazing breath) on her blog:
~~~~~~~~~~~~~~~~~~~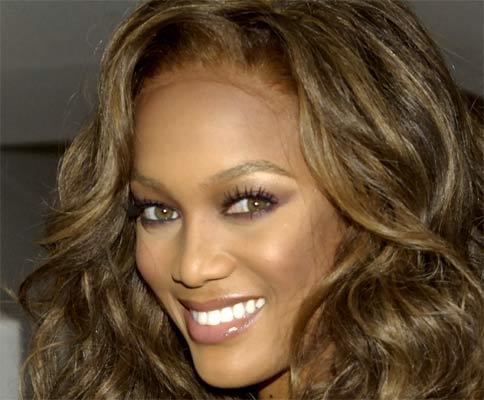 I am sitting at the computer right now typing away, and I haven't brushed my teeth yet, so I've got some serious morning breath. Why do we have to wake up with such foul smelling mouths in the morning?
Why can't I wake up with my mouth smelling like mouthwash? I flossed last night, brushed with an electric toothbrush, rinsed with strong cinnamon flavored mouthwash and used my tongue scraper - yet I still wake up with a mouth that smells less than fresh.
Do you know what a tongue scraper is? It is a device that removes any gunk from your tongue and keeps your breath fresher longer. You can buy it in the drugstore. It is great in the morning, cuz it does get that extra bit of bacteria out of your mouth so you'll stay fresher smelling longer. But at night...
Someone that has the freshest clean smelling breath is Clay Aiken. I know cuz he came on my show, and I had one of the most fun interviews with him that I have ever had. I am so in love with him. He is so funny, loving and just darn amazing. He even sang with me. Yes, we did a duet. I was awful. He sounded like an angel.
Clay has the most loyal fans in the world. They call themselves "Claymates." I told Clay I am a "Clay-frican American," meaning that I am an African American that loves Clay Aiken. Get it? You gotta see how much fun we had. The show airs next Wednesday, November 22.
Oh yeah, and I ask Clay the one question that everyone is dying to know the answer to. You gotta watch!!!
Much Luv,
Tyra
P.S. I'm going to brush my teeth and gargle now, so I can be so fresh and so clean today!
Matt Richenthal is the Editor in Chief of TV Fanatic. Follow him on Twitter and on Google+.