The debut album by Katharine McPhee comes out today. What follows is a review of it by The Boston Globe ...
Six years into the process and they still can't get it right the first time.
They would be the folks charged with helping American Idol contestants make a debut album that just hits it out of the park. An album that isn't, without fail, composed of one big money track, a couple of good songs, and a lot of personality-free filler.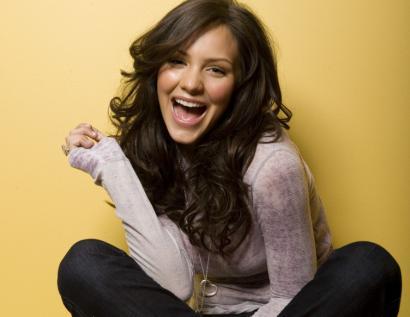 Last year's almost-
Idol
Katharine McPhee had better pray that top 40 programmers get behind her the way country radio did for 2005 champ
Carrie Underwood
if she hopes to make it to that all-important second album. Because like Kelly Clarkson before her, McPhee's debut doesn't do justice to what she likely has to offer.
Out today, this unbalanced but promising self-titled debut follows the established American Idol formula almost to the letter.
Although McPhee, a former student at the Boston Conservatory, was positioned as an old-fashioned vocalist on the show with her fan-favored rendition of "Over the Rainbow," she also excelled at lighter pop fare such as KT Tunstall's "Black Horse and the Cherry Tree."
The album's cabal of songwriters and producers - including, but not limited to, Timbaland protégé Nate "Danja" Hills , pop song doctor Kara DioGuardi , and Kenneth "Babyface" Edmonds - try unsuccessfully to cram both of those sides, and a few others, onto one record.
The first single, "Over It," is a soul-spiced, mid - tempo kiss-off of the sort that's been especially popular of late -- see Beyoncé's "Irreplaceable," JoJo's "Too Little Too Late" (by the same writers) and Clarkson's "Since U Been Gone. " It's a good style for McPhee. Yet her generic vocal makes it sound as if it could be a demo for any one of the above
An obligatory pair of big, blowsy Mariah Carey-style piano anthems should play to the core Idol audience, but they do nothing to illuminate who the 22-year-old California native is beyond a pretty girl with a pretty voice.
A few ill-advised flirtations with the type of sister-friend soul associated with Mary J. Blige -- impeccably produced by Hills -- only manage to make McPhee seem squarer than she actually is, and a lite-reggae number is best not spoken of again.
But for almost every ridiculous song like "Open Toes" - a slick dance track that's supposed to be in the sassy Christina Aguilera mold but, by being about shoes, is just silly - there is a gem like "Better Off Alone." This ruminative blues sounds relaxed and emotionally honest, and plays into strengths McPhee displayed on the show.
Nonsensically , McPhee and her handlers placed "Better Off Alone," as well as the dreamy Babyface contribution "Everywhere I Go," at the end of the album. Hopefully, next time McPhee will play to her strong suit instead of trying to play all her cards at once.
Matt Richenthal is the Editor in Chief of TV Fanatic. Follow him on Twitter and on Google+.