Mediabase has provided some numbers to show the massive impact on radio airplay of American Idol since its debut six years ago. The blockbuster television show is now responsible for generating more than six million radio spins. This week alone, twelve former American Idol contestants are on the charts or close to making it on.
The airplay derby has been led by Kelly Clarkson and Carrie Underwood, who have dominated the radio airplay charts in recent years among Idol alumni.
The winners of season one and four, respectively, have racked up an impressive four million plus radio spins between them. Others who have become household names include Fantasia, Josh Gracin, Ruben Studdard, Clay Aiken, Chris Daughtry and 2007 Oscar winner, Jennifer Hudson.
According to Mediabase, Clarkson has received a staggering 3.3 million spins since winning the American Idol title in its inaugural season. Underwood has amassed 725,000 spins, firmly entrenched in the number-two position, averaging more than 450,000 spins per year according to the radio monitoring firm.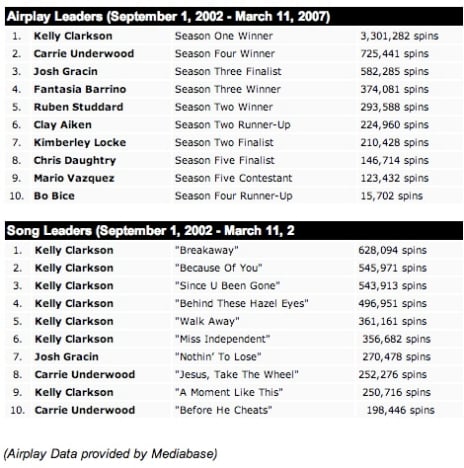 "American Idol has become a dominant force in radio, particularly in the current driven formats," said Mediabase President Rich Meyer. "The vast majority of radio programmers obviously feel that Clarkson and Underwood possess major star power and feel the same about a number of emerging Idol talent following in their footsteps.
Finalists like Chris Daughtry, Katharine McPhee, Josh Gracin and Kimberley Locke are bursting on to the scene in a big way with their new releases, and other contestants like Mario Vazquez and Clay Aiken have certainly been formidable forces in radio as well."
Matt Richenthal is the Editor in Chief of TV Fanatic. Follow him on Twitter and on Google+.