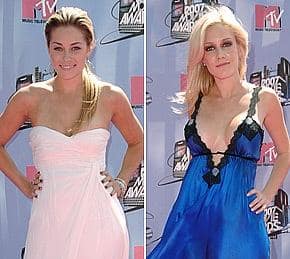 Season 3 is still being filmed, but
The Hills
are already alive with the sounds of drama.
The new issue of Us Weekly claims that Heidi Montag is crazy to get more publicity and is so eager for more face time on the hit reality TV show that she's been crashing scenes she's not invited to.
Specifically, shots involving Lauren Conrad.
"Heidi's been showing up at shoots uninvited," a source says.
"She knows her best chance for air time next season [premiering in August] is to get into scenes with Lauren."
So let's get this straight. Heidi ditches Lauren for a guy, something she said she'd never do, but shows up whenever LC is supposed to be on screen. Now that's classy.
The drama built up after Montag, 20 - who recently got engaged to Spencer Pratt, 23 - clashed with Lauren Conrad, 21, at L.A. club Les Deux.
"Lauren was screaming, 'You're pathetic!'" says a witness. "Lauren was waving her hands around wildly, saying she couldn't deal with Heidi."
But Montag's rep (who may or may not be Spencer Pratt), told Us Weekly that the actress and her new boob job were chasing neither Lauren nor drama.
"Heidi's recording her album. She doesn't have time to chase Lauren."
Yes, Heidi Montag is recording an album. Better pre-order it now, because it is likely to be a landmark musical event for our generation.
Matt Richenthal is the Editor in Chief of TV Fanatic. Follow him on Twitter and on Google+.