The Hills doesn't premiere until Monday - but the drama is already in full swing.
Heidi Montag and Spencer Pratt were banned from attending the MTV show's post-premiere party Wednesday night in L.A. due to the couple's escalating feud with costars Lauren Conrad and Audrina Patridge.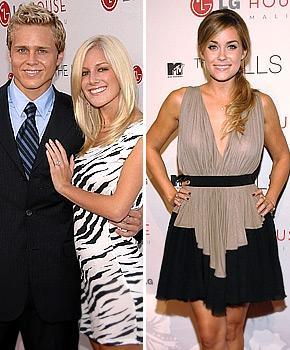 While MTV allowed the gruesome twosome (Pratt and Montag) to walk on the red carpet, "they were not allowed to be at the party while Lauren was here," a source told
Us Weekl
y, who added that extra security was also brought on.
Another source says that MTV "suspended" Spencer and Heidi from doing any more media to promote The Hills after their trash-talking interview on Monday with a Philadelphia radio station.
While chatting with talk show hosts on Q102 FM, Pratt called Conrad a "stupid girl" who is just using the couple to draw attention to herself. "She's the douche, the psycho," he said.
After that, Heidi Montag added: "I never could be friends with some lowlife like that."
The insider says that after the interview, MTV nearly canceled the couple's appearance on On the Air With Ryan Seacrest Wednesday morning, but allowed them to do one last interview with the KIIS FM show.
For now, however, "they are on a [celebrity gossip] blackout," says the source.
Another insider says that MTV has decided to gag all parties - including Conrad and Patridge - on the subject matter. "Tensions were so high, MTV decided to shut it all down," says the source.
"Spencer crossed a line with several things he said. And fans of the show take it all so seriously, people were starting to worry about security concerns on all sides."
Matt Richenthal is the Editor in Chief of TV Fanatic. Follow him on Twitter and on Google+.