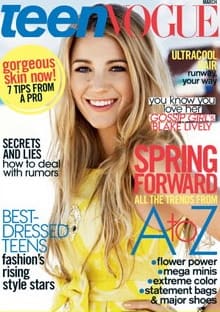 Blake Lively is the March 2008 cover girl for
Teen Vogue
! Here are some of the interview excerpts from the Gossip Girl star ...
On her rumored romance with co-star and on-screen boyfriend Penn Badgley: "I try not to talk about my dating like I want to, but once you start, it's all downhill from there."
On trying to be sexy during Gossip Girl: "In one scene, I was totally falling off the barstool (making out with Chace Crawford). I was trying to be sexy. So I think, 'what would Britney Spears do?' So I whished around my hair."
On those rumors of Gossip Girl on-set strife: "There is always going to be drama on set, but it's just not true that Leighton Meester and I dislike each other."
On her older brother, an actor and model, sending some of her pictures to his agency: "I played along and did a few auditions. After eight weeks, I got my role in Sisterhood of the Traveling Pants."
On not wanting to act as a child: "I actually wanted to be an interior decorator. Baking and flower arranging have always been my favorite hobbies. I love Martha Stewart."
On strong family ties and staying grounded: "They are my best friends, anything that goes wrong I go to them. I'm not a wild person at all. You never read about me dancing on a banquette at some club because that never happens. In high school, I'd go to fundraisers at Fuddruckers, not drink martinis at the New York Palace bar."
On reuniting with her Sisterhood of the Traveling Pants co-stars America Ferrera, Alexis Bledel, and Amber Tamblyn for the sequel: "When we got back together, it was like no time had passed. We stayed together in two connecting suites, talked and sang Disney songs all night."
On not being a fan of what the limelight has done to Britney Spears: "I feel so sad for Britney. I want to see what everyone else would do in her situation, she so talented and misguided. She has lived her whole life in front of an audience."
Steve Marsi is the Managing Editor of TV Fanatic. Follow him on Google+ or email him here.