Jessica Szohr Opens Up About Character
Steve Marsi at .
Jessica Szohr plays Vanessa Abrams, the BFF of Gossip Girl leading man Dan Humphrey. Vanessa is Dan's childhood best friend who has returned to New York, realizing that she is in love with Dan.
Naturally, this throws a wrench into Dan's relationship with Upper East Side princess Serena van der Woodsen - but as we saw, perhaps there's a new romance on the horizon for Vanessa, as well!
Jessica recently gave an interview with BuddyTV today and promised there will be much more in store for her as Gossip Girl continues. Here are some excerpts from the interview, with a link to the full story on Buddy ...
Q: Maybe to catch people up on the show a bit, since it was on hiatus for a while, can you talk about what your character is like?
Jessica Szohr: I play a girl, Vanessa Abrams, from Brooklyn, who is Dan Humphrey's (Penn Badgley) childhood best friend. And she moved away with her parents to Vermont and comes back and confessed her love to Dan Humphrey, and realizes that he is on a whole other page from when she left New York. And she came back and is working on a documentary, and has a job at this little cafe in Brooklyn. She doesn't really understand or get the whole world of these Upper East Sider kids.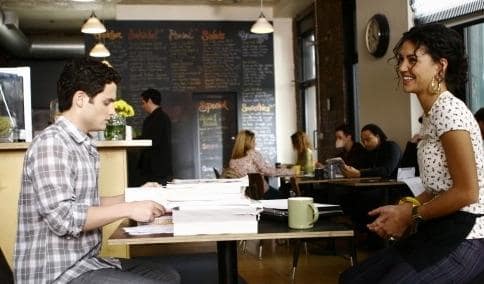 Dan (Penn Badgley) and Vanessa (Jessica Szohr): Old friends.
Q: Are you personally like Vanessa at all? Do you identify with her?
Jessica Szohr: I think out of all the characters on the show, personally, I could relate to Vanessa the most. I come from Wisconsin, so living in New York, and especially on the Upper East Side, is very different from where I grew up. Mostly, personally, I could relate to Vanessa, which is great because that's who I'm playing.
Q
: So, she was first introduced into the series to sort of meddle in Serena (
Blake Lively
) and Dan's relationship. Is that going to continue? Or will you be getting another love interest? Can you give us a clue?
Jessica Szohr: Vanessa, I think, finally had to support their relationship and knew that Dan was going to be happy with Serena. I think it was hard for her to swallow it, but you gotta do what you gotta do. And Vanessa ends up really enjoying Serena's company and thinks that she's making Dan happy. Vanessa does get to know someone that does go to their school. As she's doing her documentary, she realizes that one of the guys isn't totally that world. He lives there and comes from money and all that, but she realizes that he's also different than them. And they start to hang out a little bit. I'm not sure if they'll end up dating or become really good friends, but she really enjoys his company.
Q: This is seriously one of my favorite shows, so I'm just excited for any details that you can give me.
Jessica Szohr: All I have to say is, with the last five episodes before we end Season One. It was supposed to be originally nine episodes, so they've crammed nine episodes into five. [There are] weddings, people coming out with their sexuality, and a lot of stuff.
Continue reading Jessica's interview here ...
Steve Marsi is the Managing Editor of TV Fanatic. Follow him on Google+ or email him here.