Gossip Girl stars Chace Crawford, Ed Westwick and Penn Badgley are on the cover of the November 2008 issue of Details Magazine! The hunky trio gave lengthy interviews with the publication. Some excerpts of their comments:
Chace Crawford on the inner workings of the TV star life: "I literally go into the bathroom and wipe off one layer of makeup. My occasional zit is a big deal — oh, they turn on the alarms for that. And they get mad if I get sunburned or get a haircut."
Chace Crawford, on being under contract for six years (as are his co-stars; it's customary for TV shows): "It never really gets frustrating. Sure, sometimes you just want to have a scene where you're drunk or having fun. I'm hoping for a fall from grace for Nate. Five years from now, I better have murdered someone!"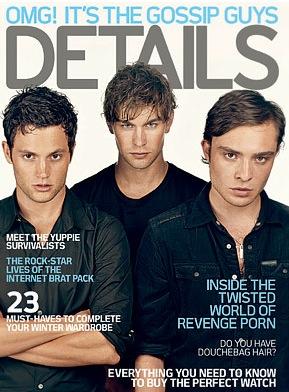 Penn Badgley on his relationship with girlfriend and co-star Blake Lively: "It's wonderful and also something to grapple with in terms of mixing work and pleasure. You have to draw the line somewhere. I'm fine talking about my family and personal history, because it humanizes you. But I have to save some sh!t for me."
Ed Westwick on Penn Badgley's chest hair: "Penn said he has to shave his chest hair because it's threatening. Reeeaallly... Well, I think Penn's chest hair may be more like a scarf. It actually comes out of his neck! So maybe that's why he has to cut it. Threatening? I don't know what threatening hair would look like."
Check out the full article with the guys in Details ...
Steve Marsi is the Managing Editor of TV Fanatic. Follow him on Google+ or email him here.