Their dynamic has been relatively unchanged (and awesome) so far. But get ready for a little role reversal for G. Callen and Sam Hanna on NCIS: Los Angeles soon enough.
"Usually it's Sam protecting Callen, but this turns the other way," creator Shane Brennan says of an episode that explores Sam's relationship with a family in the Sudan.
This, of course, dates back to his days as a Navy SEAL, and unlike last week, when Callen was in over his head because of his past, Sam is the one who needs protecting.
"Callen has to watch Sam's back because he's really out on a limb," Brennan says, also teasing a "heart-wrenching episode" that delves more into Callen's personal life.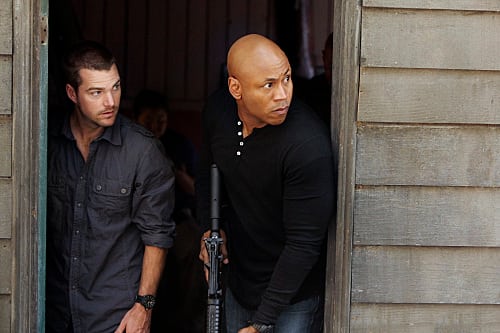 Callen (Chris O'Donnell) and Sam (LL Cool J) on NCIS: Los Angeles.
"It's only the beginning of something that will be resolved later in the season," he says of that episode, which will apparently introduce a past (or present) love interest.
In the immediate future, the show returns with a new episode next week entitled "Missing," in which the team rushes to a crime scene and learns one of their own is in peril.
Who do you think it is?
Steve Marsi is the Managing Editor of TV Fanatic. Follow him on Google+ or email him here.