It's weird, but saying goodbye to Scrubs for the third time was not nearly as hard as the first two times.  And that's not to say we haven't been enjoying season nine, aka Scrubs med school, because once this series reboot found its stride, it's been good.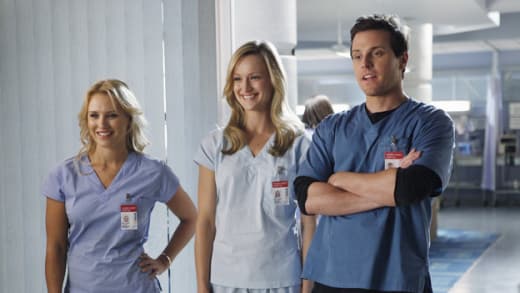 We don't want to think of "Our Thanks" as a series finale since it wasn't written as one and Scrubs already had its perfect finale last season with "My Finale."  Instead we're going to review the episode as if it were any plain old episode in the season.
For starts, Cole has absolutely turned around as a character for us after he showed his human side last week.  We actually genuinely like him now as a character and loved his plot line with Turk.
Seeing Turk sruggle with this "douche" trying to be his protege, only to have Cox compare it to his relationship with J.D. was perfection.  Though Cole will never be as likable as our favorite man child that's powered by hugs, he still could have had a great relationship with Turk over the years.  Too bad that ain't gonna happen.
Meanwhile, we're in love with Denise and Drew as ever, and their plot line, in which Denise has turned around and become the softy ready to take things to the next level was great.  We're gonna miss these two sarcastic asses together.
As usual, the main plot line belonged to Lucy and us usual it was the weakest of the three.  For some reason, Lucy never clicked as a character for us.  Don't get us wrong, plenty of her jokes and the ones at her expense (especially the horse funeral) have us laughing, but she never really worked like J.D. did.
Again it won't matter since, unless ABC goes the way of NBC and becomes desperate for programming, we won't ever see a season ten. While the show has had us laughing this year, we're okay to say goodbye to it.
We want to thank Bill Lawrence for nine years of amazing television and if all we're going to get from you is Cougar Town from now on, we'll take it and be a lot more forgiving of that show.
Thank you ABC for giving it one more shot, we just wished you could have hyped the show more and given it that precious Wednesday time slot earlier.  Owell, glad we didn't hae to suffer from another episode of tears from J.D. saying goodbye.  Thanks for going out easy.
We'll end what's most likely our last Scrubs post with our favorite quotes from the episode:
Dr. Cox: The ceremony of thanks is quickly approaching.
Turk: That's where you publicly thank the fmilies of the cadavers you've been dissecting this semester.
Dr. Cox: It's actually a pretty sweet deal for them. After their loved ones are stripped for parts like a 1998 Mitsubishi Mirage, we treat them to some free cold cuts and a chance to hear you regurgitate some trite quotes about their family members sacrifice that you found on the Internet. | permalink
Cole: I always thought a surgeon would hook me with some sweet calf implants or a robot arm, but I never thought one would save my life. | permalink
Turk: You don't want to be a surgeon, Cole, it's boring and it sucks. It's the complete opposite of a water slide. | permalink
Cole: I already know what i'm going to call my surgical practice. Cole Cutz.
Turk: With a z?
Cole: That's right! Man, you gotta knock before you enter Cole's brain. | permalink
Turk: Surgery is long, tedious and boring.
Cole: Oh I get it, like episodes of Entourage that revolve around Turtle. | permalink
Eric Hochberger is the programmer of TV Fanatic, so please forgive his mediocre writing. His programming is far better. Follow him on Twitter and/or email him. Just don't request threaded comments. They're coming.