Welcome to the world, Cecilia Marie Halpert. Good luck on Take Your Daughter to Work day!
This week's hour-long episode of The Office was dedicated to the long-awaited birth of Jim and Pam's baby. But it didn't take long for Cecilia to appear on screen on "The Delivery," as most of the installment was actually focused on the couple's parenting attempts.
These were a perfect illustration of how far The Office has come: far more than a sitcom about cubicle-related hijinks, this is a well-rounded show that can be as dramatic as anything on TV.
Did anyone else panic along with Jim, as Pam insisted on remaining at Dundler Mifflin, despite the proximity of her contractions (not contramptions, Michael)? Could anyone else relate to the struggle of trying to breastfeed a newborn and feeling like a failure as a mother, just hours after becoming one?
The Office is able to tug at one's heartstrings... while also pounding on one's funny bone, of course.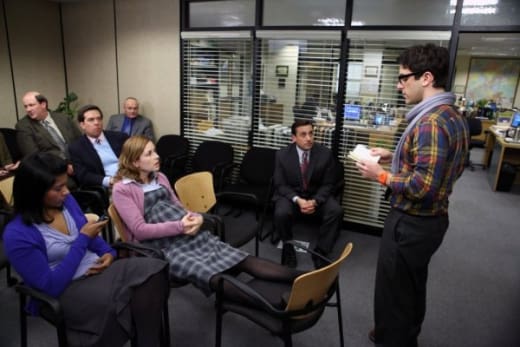 After all, the episode was filled with plenty of one-liners and hilarious situations. Among them:
Pam emphasizing that this is the only time she'll ever ask her office mates to show off their unusual skills... and Ryan taking the opportunity to read poetry.
An abundance of Kevin. From his excitement over "Ultra Feast" to his dismay over Michael dating people hotter than him, my favorite character was given plenty of material.
Let's just hope he takes good care of his elephant heart.
Did Michael really make a joke about the baby having a lot of hair because of Pam's... let's move on.
Erin and Andy finally going out on a date? In a word: Awwww.
In more than a word: What will their couple nickname be? Endy? Arin? We're open to suggestions.
We'd buy a copy of the Twilight cookbook.
Will we ever meet Jebediah Schrute? Hard to see Dwight and Angela's baby-making contract resulting in an actual child.
Dwight loves escorting people. He put an ad out for an escort service and got A LOT of responses. Most of them were creeps. But he made a few friends.
Overall, the episode combined heart and humor in a more successful way than "Niagra," the last hour that focuses on a seminal moment in the relationship of Jim and Pam. Both John Krasinski and Jenna Fischer were outstanding.
Below, we've listed our favorite The Office quotes from "The Delivery."
Dwight: I know that I'm an adult, but maybe I could come by some time for a teeth-cleaning. | permalink
Michael: Kevin has an enormous heart. Literally. He has an elephant heart. He had a transplant when he was 17. | permalink
Phyllis: I have an ice cream cake in the car.
Michael: Go! Go! Go! Are you insane? | permalink
Pam: Wanna count her fingers and toes again?
Jim: No. Let her rest. I'm sure there are still 12 of each. | permalink
Michael: Should I bring a dictionary?
Oscar: The hospital will provide dictionaries. Bring a thesaurus. | permalink
Pam: Don't be mad.
Jim: Mad? How could I be mad? We're having a little girl. | permalink
Phyllis: I can put on lipstick the way Molly Ringwald does in The Breakfast Club.
Michael: I don't think anyone wants to see that. | permalink
Michael: I'm sort of a master of distraction. When I was a kid, my mom received comments left and right from my teachers that I would distract everyone around me. | permalink
Andy: Speaking as a former baby, don't get too hung up on baby names. | permalink
Matt Richenthal is the Editor in Chief of TV Fanatic. Follow him on Twitter and on Google+.