Gossip Girl Review: "Dr. Estrangeloved"
Steve Marsi at .
On last night's Gossip Girl, family secrets were revealed, schemes were hatched, couples fought and were torn apart, and evil Jenny totally got hers ... it was great.
There were plenty of developments in "Dr. Estrangeloved," which set us up beautifully for an exciting final three weeks. Let's begin with Vanessa and Dan (yawwwn).
When Dan finds out Vanessa got the spot in the Tisch writing program he applied for,he  complains to his friend Willa that she used a script based on his short story.
Willa's dad happens to be on Tisch's board, so she pulls some strings and gets Dan in, ousting V. High fives, right? Well, not so fast. She actually used her own play.
Dan frantically calls Willa to get her to reverse the decision, but the damage is done, as Vanessa, realizing Dan was okay with this to begin with, is ignoring his calls.
These two were actually pretty good in this episode, even if it paled in comparison to some of the other drama. We'll see where they take it in the upcoming weeks.
Serena's long-awaited reunion with dad wasn't quite as she'd hoped.
When we first see Lily and Serena, they are heading home to "explain everything" to Rufus. Explain what, we don't know, but Dr. William van der Woodsen will tell us.
He arrives first, and they all tell Rufus what Lily has been lying about. Lily has a "very treatable" cancer and William had been treating her, in secret, for some time.
Absurd as it is how Rufus is more or less okay with it, we actually can see Lily lying about such a huge thing for so long, seeing as she lies about everything anyway.
William Baldwin, with a voice that sounds like a mix of Chuck Bass and his brother Alec, was great as Dr. VDW. Charming and just shady enough to keep us guessing.
Looks like we'll keep guessing too - but only regarding what he's up to. Lily relapses, and then as the credits are about to roll, the night ends on an unsettling note.
"It's not working exactly as I'd hoped," William says into the phone, blackmailing an unnamed person at the other end. "I need you to write Lily another prescription."
What sort of ruse do you think he's up to?
Now for the portions of the night that were vintage Gossip Girl, with
Season One
style machinations from both Chuck and Little J, who spent the night at Nate's place.
Nothing happened, but she's walking around in his shirt and no pants just wishing something did. She's clearly frustrated that Nate is still trying to work it out with S.
Since he wants his BFF back (?) Chuck is all too happy to help J hash a plan - make Serena jealous so she ditches Nate, as the reverse will never happen. Diabolical.
Chuck's real motives here are highly questionable, as he's wasted and getting ready for a threesome with some random girls. It's sad to watch, yet blissfully entertaining.
She takes Nate's shirt and drapes it in her bag for S to see. Jenny tells her that she and Nate "were just hanging out" and they just "totally lost track of time." B!tch.
Meanwhile, Blair had planned a "rebound brunch" for herself, but no eligible bachelors showed, leading her to conclude that Chuck has issued a "dating fatwa" on her.
She turns to Dan, awesomely, for help getting a guy to make C jealous and get on Gossip Girl, thus undoing the fatwa. Dan tells her about an "art party" in Brooklyn.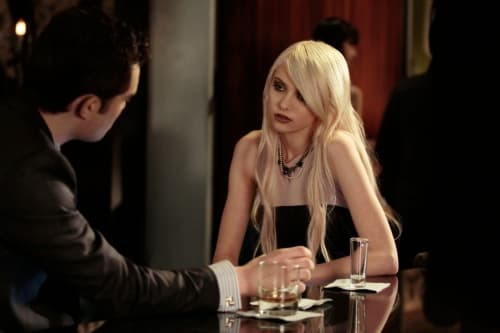 Chuck and Jenny hatch a plan to pry Nate from Serena.
There, she has her sights set on a hot Columbia dude, but Chuck, Nate and Jenny arrive as well, and the plan backfires. Denial is not the way to forget Chuck Bass.
Rather than trying to get back together with him, she genuinely tries to move on, feeding the ducks and taking some time alone just like Dorota suggested earlier.
As for Jenny's plan, Chuck accurately predicted that Serena's passive-aggressiveness drove Nate straight to her. Nate feels rejected by S and J tries to make a move.
She tries to kiss him, but he still resists, unaware that Serena sees the whole thing. Serena learns Jenny never gave Nate the message about going to see her dad.
Just like that, Nate gets the message through his man-bangs and Jenny's scheming is exposed. He orders her to get out and he and S have a heart-to-heart. Wow.
We did not see that coming, did you? Jenny's evil plan seemed destined to work, and we also thought Chair might end up back together after all the head-butting.
Where do you see Jenny's story going now that she's been exposed? Will Chuck and Blair reunite and how? Does Lily even have cancer and what is Dr. VDW up to?
All in all, a decent episode that was entertaining throughout and left us with a bunch of burning questions heading into May. Share your thoughts with us below!
What did you think of last night's Gossip Girl?
Steve Marsi is the Managing Editor of TV Fanatic. Follow him on Google+ or email him here.