After being on the air for fourteen seasons, we know it's probably no longer cool to say South Park may still be the most brilliant show on television.  But, after a mediocre season premiere, and a decent follow up last week, this season's third installment, "Medicinal Fried Chicken," was perfection to us.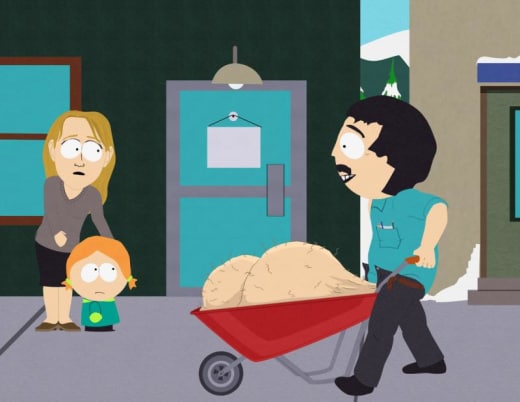 It was classic South Park in that it was a brilliant political satire behind one of the most ridiculous plot lines that included Randy and the guys bouncing around on their enlarged testicles from testicular cancer, while Cartman joined a KFC smuggling ring that led to him cutting up fried chicken skin with a credit card and snorting it.
To say only on South Park is an understatement.  While a show like Family Guy would have no problem going for the gross out factor the enlarged testicles, few other shows would have the satire behind the storyline.
In this case, the show took on the ridiculousness that is medicinal marijuana.  If you're going to legalize the stuff, just legalize it, and not hide it behind a veiled medical concealment.  As Randy discovered on the show, he was too healthy to qualify for the stuff.
Of course, Randy had no problem shoving his testicles in front of the microwave and giving himself cancer just to qualify.  The guy needed his stuff in time for a concert.  Who could blame him?  It didn't help that his testicles made transportation easier, and heck, the ladies loved them.
Meanwhile, if that plot line was somehow not ridiculous enough for you, Cartman scoured the lands for an open KFC, only to discover the entire company has been banished from Colorado when fast food chains became illegal in low income neighborhoods.
Cartman soon found himself in the middle of a KFC-smuggling ring that closely mirrored cocaine and several movies, including Scarface.  While Colorado hasn't actually banned fast food chains, they certainly are trying to cripple them with several of their new health care laws.
In the end the message became clear when the town realized they had to stop the new crime wave (brought on by the smuggling ring) and the wave of cancer (brought on by men microwaving their balls to qualify for marijuana).
In typical South Park fashion, the town felt that legalizing KFC, the product that clearly prevented cancer, and banning marijuana, the drug that led to crime, would solve all their problems.  It was brilliant and we hope the show can keep up the momentum.
Now for our favorite South Park quotes from the episode, including Cartman's three brilliant Pope jokes:
Cartman: Do I want to do it? Does the pope help pedophiles get away with their crimes? | permalink
Cartman: You cutting the Colonel's gravy with Boston Market to try and save yourself some %@#%ing money!? | permalink
Cartman: Is that something I'd want to do? Is the Pope Catholic and making the world safe for pedophiles? | permalink
Cartman: Does a bear crap in the woods and does the Pope crap on the dreams of 200 deaf boys? | permalink
Eric Hochberger is the programmer of TV Fanatic, so please forgive his mediocre writing. His programming is far better. Follow him on Twitter and/or email him. Just don't request threaded comments. They're coming.