The Vampire Diaries Review: Father Feeding, Suicidal Stefan and More
Matt Richenthal at .
It's official: The Vampire Diaries has more layers than an onion. It has more twists than a bag of pretzels.
Food metaphors aside, "Blood Brothers" was an incredible, revealing episode. Viewers learned a lot more about the rich history between Stefan and Damon. These revelations were fast, furious, unexpected - and hardcore. In what way?
Stefan fed on his father. This bears repeating: Stefan fed on his father! Did anyone see that coming? Seriously, this show makes Twilight look like a Saturday morning cartoon.
The fact that Stefan essentially forced Damon to fully transition sheds so much light on this relationship. Each side holds a grudge against the other, but Stefan's is based on self-loathing as much as anything Damon himself has done. There must be thousands of human deaths over the years for which Stefan feels responsible.
Ironically, this new piece of information also makes Damon more, well, human. Of course he's bitter and angry. Katherine chose to turn his brother, and then that same brother caused Damon to live in a world in which Katherine does not exist or does not want him.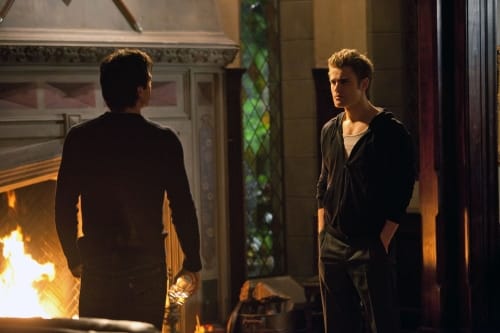 Faced with his guilt, Stefan wanted to die. This provided a well-written contrast with Damon's desire 146 years ago: the latter didn't wish to go on because his love was dead (or so he thought); while Stefan wished to end his life even though Elena was begging him not to.
In a heartfelt explanation of his daily struggle, Stefan said:
If I just give myself over to the blood, I can make that pain stop. Every day, I fight that. | permalink
Who would think that a show about vampires would deliver this kind of character depth?
Naturally, Elena convinced Stefan to keep fighting - but will their relationship ever be the same? Not only does Elena know some damaging information about Stefan now, but she has a new understanding of Damon. I assume everyone took note when he came home, sat on the couch and casually put Elena's feet on his lap?
This relationship is growing stronger, just as Damon is becoming a more sympathetic character. Delena lovers out there must be celebrating.
Others notes and observations from a terrific episode:
I spoke too soon last week when I criticized the show for abruptly ending the tomb-free vampire storyline. Looks like Uncle John is keeping an eye on these blood suckers, who are still very much around. But what is his end game?
Tough break for Anna. It can't be easy to watch your mother die... for the second time. Does this mean she'll leave town now in anger? Or stick around and seek out Pearl's killer?
I'm not sure which is funnier: Damon referring to Alaric as "Ric" to his face, or as "the teacher" when talking to Elena about him.
After all that talk and hype over Isobel, it was a bit anticlimactic for her to simply show up at Mystic Grill and say hello to Alaric. Still, I'm certainly excited to see her impact on everyone in town.
What did you think of "Blood Brothers?" Sound off now, as we list a series of Vampire Diaries quotes from the hour:
Damon: You brood too much... My actions, they belong to me. I own them. | permalink
Damon: What did you think you were gonna find? Isobel with a cigar and slippers? | permalink
Alaric: Can we not kill anyone tonight, please?
Damon: You just brought me along for my company? | permalink
Damon: Stefan likes puppy blood... little Golden Retriever blood with floppy ears. That's his favorite. | permalink
Stefan: I don't want to survive... after what I've done, I just want it to be over. | permalink
Damon: From the moment Stefan had his first taste of human blood, he was a different person. | permalink
Matt Richenthal is the Editor in Chief of TV Fanatic. Follow him on Twitter and on Google+.