The Gates Review: "Identity Crisis"
at . Comments
The Gates has proven over time to be a highly entertaining show - with each character's storyline deepening into something more than what just meets the eye.
"Identity Crisis" showed us again what type of cop Nick really is. He lives and breathes in the gray area. Nothing for him anymore is black and white - right and wrong. He was able to swap the flash drive and call Dylan to warn him about the dangers he could potentially be in - all without batting a guilty eye.
One element that had me disappointed was the ease of ability that Agent Russo had getting around the police department inside the Gates. Seriously, why on earth did it take so long for them to do a background check on her? And if she was a fake Agent, how could she get all those search warrants? Wouldn't they also not check out?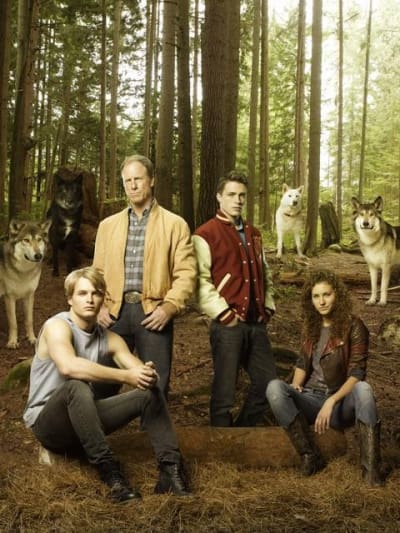 [Photo: ABC]
I found it interesting how easy it was for Charlie to move onto another girl. If he was so crazy about Andie - wouldn't he give it more than a week before he started making out with someone else. It was all too perfect for Andie to come out of no where and catch them in the act...had me laughing a bit.
The medicine that Mia steal's from Devon to treat Andie's powers is also kind of ridiculous. If a powerful witch (and also your mother) tell you that Devil's Weed is very dangerous and deadly, why would you give it to your best friend? The writers really know how to play up the dumb teenagers on the show.
We learned a bit more about Leigh when she admitted to Nick that she too was on the list of people Jessup changed identities for. Okay, so she's not a vampire - but what is she? She tells Nick that she had to move and start a new life because of a bad ex-boyfriend who "ripped her hear out". If you remember from the earlier episode "Breach" Leigh has a small box that would cause her harm if shes too far away from it. Do you think this means her heart is in the box?
The episode ended with Claire and Dylan still trying to figure out what has become of their relationship. The one person who always suffers the most is the child. Emily not only had her feeling hurt when neither of her parents showed up for her spelling bee, but was also kidnapped by a crazed vampire seeking revenge (i.e. Christian).
In a very soap opera way, Christian leaves the ring he wanted to give to Claire as a calling card for them to know that it was him who stole their daughter. Really, Dylan didn't do a great job in making sure his old chap was dead. Now its up to them to track them and find Emily before it is too late.
What a mess of a life Claire has made for herself!
The Gates continues to amuse me and never leaves me bored - but, then again, how could you be bored with over fifteen main characters. Sometimes I feel like I am on a merry-go-round and my head feels a bit dizzy when the show ends.
What did you thinks of last night's episode? Love it or hate it - let us know! Until two weeks from now, we leave you with a few of our favorite The Gates quotes below!
Christian: Oh don't you worry about it pumpkin - this is going to be fun. | permalink
Nick: She's right. They're not all monsters. | permalink
Leigh: You can't punish them all for what he did. | permalink
Brett: I told you it would work. | permalink
Devon: You can do anything you set your mind to - you just have to trust yourself. | permalink