This was an interesting episode of Gossip Girl.
"The Undergraduates" saw Juliet going all-out to take down Serena, the quick resolution of Dan's baby plot, and confrontations between Chuck and several Upper East Siders.
With the memory of his actions with Jenny still lingering, the just-returned Bass was forced to confront not only her angry father, but ultimately himself, baring his soul to Eva.
Chuck Bass, after all, a changed man. So he says, and Ed Westwick does a great job selling. But what felt forced was Eric, Rufus and Blair all trying SO hard to tear him down.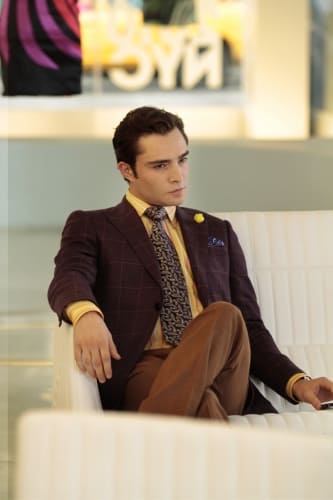 Shunning him, sure. But Blair going off on Eva was rather harsh, and Eric recanting that story from Season One out of nowhere made little sense. Still, it forced Chuck's hand.
Eva deserved to know the truth about him, and after he told her about his past (father quickly, given his history), she accepted the rejuvenated Chuck Bass 2.0 for who he is.
This was very sweet, but of course, it's far from over. Is she really the innocent she appears, or is she harboring a dark secret of her own? If so, Blair will find it. Bank on that.
Next week have adorable baby Milo who, stunningly, is not actually Dan's. Rufus establishes this right off the bat, forcing Brooklyn's Finest to get a grip and plan his next move.
While the Upper East Side may not mesh with changing diapers, we actually liked what this plot line brought out of Dan, and how no matter what, he refused to let little Milo go.
Until Georgina returned, spun a wild story about a Belorussian business tycoon's wife threatening to kill her, explained that the paternity test got her off the hook, and took Milo.
Dan acquiesced awfully fast, but perhaps it's for the best, and he had no legal claim on the tyke. This also served to bring him back to and closer than ever with Vanessa, as well.
Hopefully, the two of them living together will result in some entertaining stories, rather than the two of them simply being exiled to the loft away from the rest of the characters.
Hmm. On second thought, would people actually like that scenario?
In all seriousness, we would almost have liked to see this drag on a bit. Could they really survive the combined stress of dating, going to college and raising a baby together?
Maybe they'll try for one of their own. Just kidding ... probably. As for Georgina, that was a pretty weak exit. The next time she's back, we expect better from the single mom.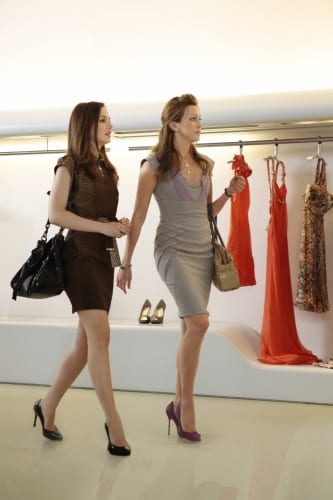 Finally, we have the mysterious Juliet, who made it her mission in life to take down Serena, nixing her from Columbia's prestigious Hamilton House and pitting her against Blair.
This didn't work out in the end, but Ms. Sharp's motives remain extremely shady, and run far deeper than a little crush on Nate Archibald (although that does seem quasi-real).
The closing scene showed Juliet meeting a guy in jail. After he asks how it's going, she replies that it's been tougher than expected, but she remains confident. She'll get it done.
What's her endgame and who is this dude? Why does he look familiar, and why does the CW's sound editing make it freaking impossible to hear any dialogue when music plays?
We love the Black Keys, but come on. Time to solve this one, guys.
Whoever the guy is, and wherever Juliet's ultimate motive to destroy Serena lies, Katie Cassidy is pretty awesome in the role. She may have lost this battle, but she's not done.
Serena and Blair will be more aware of future attacks, but Nate is still in her back pocket. It's nice to see a villain with staying power, who isn't quickly exposed and sent packing.
Regarding the return to Blair's quest for social dominance, complete with the reintroduction of Penelope and more minions, we're not sure how we feel about it. A bit trite, no?
In a sense, the lack of social cliques at NYU and Blair's reaction to that glaring omission was quite realistic. Last night? Not as much. It was high school again, just how B likes it.
We'll give her this, though. B didn't let any clique doom her bond with S this time, even if she wavered briefly. Like D and V and Chuck and Eva, B and S are living together now!
Oh, and Gossip Girl is really fast with those live streams and updates in general. We are impressed. Our own celebrity gossip site can't hang with her combination of dirt and speed.
What did you think of "The Undergraduates"? Isn't it great to be back at the Upper East Side, with the drama in full force? What will happen next? Discuss with us!
Steve Marsi is the Managing Editor of TV Fanatic. Follow him on Google+ or email him here.