Though lacking as many laugh-out-loud moments as past episodes, "The Kiss" showcased Modern Family at its sentimental best.
The sitcom can teeter on the edge of cheesy with its closing monologues, but this week's living room scene offered viewers a simple, heartwarming look at all the characters we've grown to love, as they dealt with a realistic scenario: a father's lack of affection trickling down to his children.
Thanks to the quips tossed in to everyone piling on Jay (Gloria referring to Phil as an "imbecile," Jay's loving/exasperated plea to Mitchell to embrace him and not await a "box of chocolates"), the discussion never crossed the line from sweet to corny. And it finally silenced the critics who had complained about a lack of a Mitchell/Cam smooch, doing it in an organic manner that fit in perfectly to everything we know about the couple.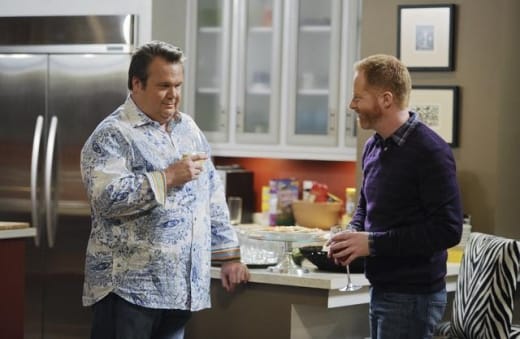 [Photo: ABC]
Of course, the episode had its share of outright humor, as well: Phil's teenage girl-like response to Jay asking for his help; the quick shot of Gloria laughing and shaking her head over Jay wearing shoes around his neck; Haley's insistence that Alex's footwear made her a possible lesbian.
Below, we've collected the best Modern Family quotes from a solid half hour:
Phil: It was only four hours. I tipped over a paint can, and threw up a little. I think 'thanks' just about covers it. | permalink
Phil: Look who needs me now? Mr. Hot Dog fingers can't press 'print' without hitting three extra keys. Yeah, in my house now Jay! Technically we'll be in his house, but we'll be in my area of his house. | permalink
Mitchell: Nobody kisses at a bowling alley!
Cam: I almost got a turkey! | permalink
Claire: Your kids don't need to know who you were before you had them; they need to know who you wish you were, and try to live up to that person. They're gonna fall short, but better they fall short of the fake you than the real you. | permalink
Phil: The computer and the printer must talk, talk, talk/Command P makes the picture walk, walk, walk. | permalink
Jay: I'm gonna go get a beer, beer, beer before I punch you in the head, head, head. | permalink
Cameron: I remember once at a New Year's Eve party, stroke of midnight, he high-fived me. Two problems with that: One, gays don't high five. Two, gays don't high five. | permalink
Matt Richenthal is the Editor in Chief of TV Fanatic. Follow him on Twitter and on Google+.