The season two premiere of Modern Family was like the opposite of building a bookshelf with Mitchell.
Indeed, "The Old Wagon" proved that viewers need not worry about this sitcom suffering through a sophomore slump, not when Jay considers a construction activity with his son worse than his experience in Vietnam; Cameron warns us that he would not make "a very inspiring disabled person;" and Phil references both Angela Lansbury and The Girl with the Dragon Tattoo in utterly ridiculous ways.
We really missed you, Dunphys and Pritchetts!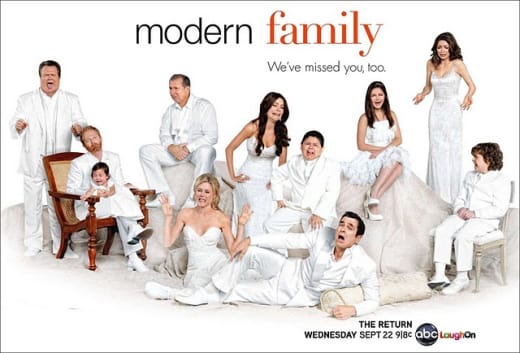 As usual, what makes this show work better than any sitcom on TV is the manner in which it doesn't beg for laughs. Most of its funniest lines are subtly dropped in to pieces of dialogue, such as Phil mentioning how he does "balance board exercises," along with the mere concept that Luke vomited so often as a child that the family gave a name to his bucket.
Who else would have loved to have gotten a glimpse at Buckety?
While we lament how time passes by, and how Starbucks replaces Burger King, consider the funniest
Modern Family quotes
from the premiere. Did we include your favorite?
Mitchell: I know I'm not the handiest guy, but I'm still a man and I want to be able to look out into my yard and say, 'There's a little bit of me in that princess castle. | permalink
Jay: That was my Vietnam - and I was in Vietnam. | permalink
Phil: Angela Lansbury was the grand marshal. Good times she wrote. | permalink
Phil: In your face, girl with a negative tattoo. | permalink
Mitchell: Aren't you going to change into a working man's outfit?
Cameron: I don't think workmen really call them outfits. | permalink
Cameron: If an accident does happen, I hope he kills me, because I don't think I would be a very inspiring disabled person. | permalink
Manny: Kelly's moving her stuff into my notebook.
Kelly: It just felt right. | permalink
Matt Richenthal is the Editor in Chief of TV Fanatic. Follow him on Twitter and on Google+.