One Tree Hill Season Premiere Review: Back on Track?

Dan Forcella at .
I really enjoyed this week's season premiere of One Tree Hill. Relatively speaking, that is.
You see, somewhere in seasons three, four and five of this show, it was clicking on all cylinders.  Then came season six, which was a muddled mix of good, decent and atrocious.  And then I couldn't stand anything about last season.  The stories didn't grab me, the music was way too overbearing and the characters were lost to me.
Therefore, compared to what I thought of season seven, "Asleep at Heaven's Gate" was a solid improvement.  I was intrigued by a couple of storylines, the volume of dramatic music was toned back, and that twist on the end there was enough to make me forget about a lot of the fluff that took up the middle 20 minutes.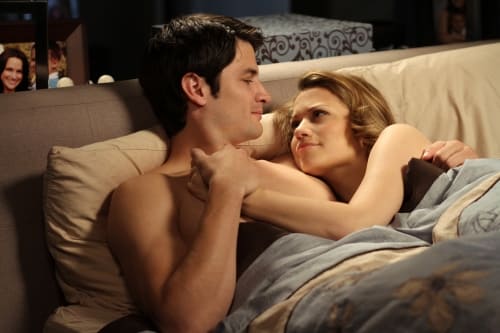 Maybe you're all more in touch with what was going on at that beach than I was, but I was honestly surprised to see that the whole thing was a dream (or, possible, the pair on the road to death).  It's especially interesting since when Clay said to Quinn "Look, I just realized that I haven't seen a single person on this beach the entire day. I said to myself INCEPTION DREAM SEQUENCE!  Playing it off as Clay just wanting to go skinny dipping was a nice misdirect.
When this episode opened with Clay thinking that the shooting was the dream, I was ready to rip this show a new one. You've got to be kidding me?  Just gonna chalk it all up to a dream?  What a cop out?  So, I am very glad that they faked me out.  It made the ending to this episode great, and should make the entire beginning of this season better, as well.
While Clay and Quinn were skinny dipping and making out on a death beach, let's take a look at what everyone else was up to.
I'm glad to have happy Naley back.  Depressed Haley really put a damper on our favorite married couple last season.  They are the rock and I'd like for them to be the two that keep everyone else sane on this show.  With what might be complications with Haley's new pregnancy and Nathan's basketball career, that might be a difficult task.  Does anyone think that neither of their doctor visits foreshadow at least one serious problem?
Brooke and Julian's massive love fest through the first half of the episode was a little tough to take, but the legal trouble Brooke is now in more than made up for it.  By no means do I want to see Miss Clothes Over Bros go to prison, but if she loses the company over this, it would be nice for the show.  I miss the broke Brooke from high school that couldn't handle not having money.  She was interesting.  The rich, whiny Brooke from the past couple of seasons?  Not so much.
And finally we get to my favorite three characters on the show.  I love Chase.  I love Alex.  I love Mia.  Having all three of them in a love triangle?  Fantastic.  The only problem I see is that Jana Kramer, as Alex, is the only season regular.  I'm sure they will put this story on the back burner for many an episode while Clay and Quinn continue to bore me (and hopefully themselves) to death.
What's going to happen to the two gunshot victims?  Will the rest of the OTH gang find them in time to save them?  What went wrong with Nathan and Haley at their respective doctor's appointments?  Will Jamie ever figure out how the birds and the bees work?  A lot of questions to ask.
Other Thoughts:
So great to have the theme song, "I Don't Wanna Be" back before episodes this year.  I'm nostalgic like that.
The Jamie scenes are really tough for me at this point.  He was so cute and lovable in season five, and he's just become less and less cute as the seasons have gone on.
I enjoy when One Tree Hill forces stories to mirror each other.  This week we had the "I said no" by both Jamie and Millie, as well as both Nathan and Haley's doctors telling them they'd have to run some tests.
I like that they gave Lucas his due by having Haley writing to him in the opening of the episode.  For characters that were so crucial to the series, they should get mentioned a bit more.
I loved when Alex told Mia off.  No matter how mean she is, she always makes me smile. 
Check out this week's best One Tree Hill quotes now!
WHAT DID YOU THINK OF THE EPISODE?
Dan Forcella is a TV Fanatic Staff Writer. Follow him on Twitter.