Bored to Death Review: "Make It Quick Fitzgerald!"
at . Comments
Last night's episode of Bored to Death was much better than the season premiere, but I am still not in love with this show.
HBO is probably one of my favorite channels and usually it hits the nail on the head with its critically acclaimed series, but for whatever reason, I can't get myself to LOVE being Bored...to Death.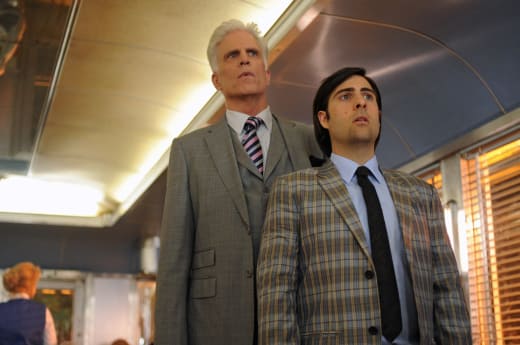 "Make It Quick Fitzgerald!" brought into the light the secret affair George has been having with his ex-wife, Priscilla. I did find it humorous that Richard hired Jonathan as the PI to find out if his wife's having an affair. Weren't these two in a boxing match just last season? So if your enemy trusts Jonathan, you trust him by default? Strange thinking, Richard.
Off topic: great cameo PC guy...we missed you!
Back to Richard.
Okay, so he comes home early to find his wife is having an affair with someone he loathes: George. Why ask him out to grab a drink? This situation really confused me. One minute they were fighting and the next becoming best friends?
I also found it strange that Stella wanted her ex to be apart of their love making sessions. I mean, sure, if you're down with the whole poly amorous relationships, that's your business, not mine. (Shout out to my favorite Red Head who is in one!) However, don't you think it crosses the line to involve someone you once had strong feelings for.
Why on earth would Jonathan agree to such terms? Really, Stella's argument that all good writers go through these things is rather silly, don't you think?  Whatever happened to the love of his life - his ex?
Something about Stella just rubs me the wrong way and I definitely don't think that these two are MFEO.
It was rather funny watching Jonathan ask Ray for his opinion on the size of his penis. Only to be reassured by Ray that his, too, is about the same size. Being a woman, I've never been in a situation where I compare my lady bits to my girlfriends. So I ask all you guys out there: is this situation fact or fiction?
I feel most badly for Ray. He's still trying to get back with Leah, but she's already moved on. I do hope that they are able to work out what went wrong, but I'm not sure if I'm really loving Leah anyway.
Overall, I do really like these guys! Each one has such a strange, yet comical personality. I just don't know exactly what it is that puts me off.
Until next week, here are a few of my favorite Bored to Death quotes:
Richard: Want to get a drink?
George: Sure. | permalink
George: I got that vaporizer you told me about . | permalink
Jonathan: Oh my God! What is that?
Ray: I've got long foreskin. Not everybody is Jewish ya know. | permalink
Jonathan: Can you please look at my penis and tell me I'm an adult male. | permalink
Jonathan: I think I may have the smallest penis in the world. | permalink
Jonathan: George, why are you having an affair with your ex-wife?
George: Because I've never fallen out of loved with her. | permalink
Jonathan: The meat packing district really has become Los Angeles. | permalink