Cougar Town Review: "The Damage You've Done"
at . Comments
The cat was finally let out of the bag on last night's episode, "The Damage You've Done."
I wasn't sure if Grayson and Laurie would ever man up and let Jules know they slept together. In fact, I couldn't agree with her more when Laurie said she thought that she'd take that secret to the grave. But the theme throughout the episode was manning up and swallowing the sword.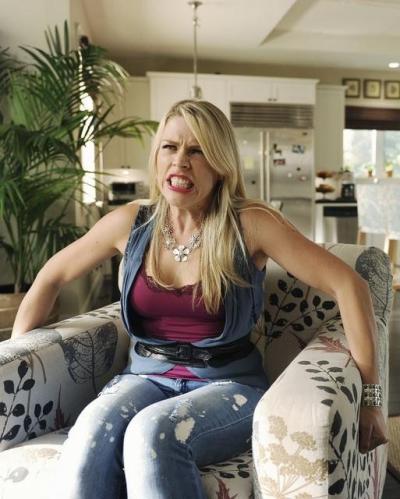 The first couple minutes of the episode really hit home for any new couple. Past intimate partners are like huge pink elephants in a room. Everyone knows that they are there, but no one really wants to acknowledge them.
When Grayson and Jules run into a guy that Jules has been intimate with before, one would think Grayson would be at the very least sizing the guy up. But, alas, he's as carefree and nonchalant as ever. He tells Jules that her past is her past and it doesn't reflect their relationship or their future.
This is a really simple, but hard statement to swallow. I think most people are curious about their significant other's past, but at the same time, once you do find out everything, are you really happy? There is a lot of truth with the statement,
ignorance is bliss
. Don't get me wrong, I'm the type of girl that needs to know everything, even if it kills me.
In only a way Cougar Town could bring drinking wine into an episode, they had a mock Survivor/Bachelor type sequence where Jules decided who would be out of the group - Grayson or Laurie. As it turned out, Ellie was sent home. This was a great scene with Grayson's victory dance and distinguishing the non-existent flame on her glass of wine.
Each week, I look forward to seeing how drinking wine will be brought into the episode. So, bravo to the writers for a home run on that scene!
We all know that Jules can't stay mad at someone forever, so did you think that it was pretty big of Laurie to swallow the sword and tell Jules the truth about her knowing that Jules had feelings for Grayson when they got it on? I don't think so.
I did really feel bad for Laurie. Anyone that's ever been heartbroken knows that feeling of complete rejection. Smith did not love her the way she loved him. Heck, she was even breathing his name in sighs.
Thankfully, Jules is a good friend and was there for Laurie in her time of need. Hopefully, this means that they've squashed their fighting. Even though there were some pretty hilarious parts on the show last night, this is a comedy, not a drama. Who really wants to tune into fighting? Not I.
Overall, I found this episode very touching. I am happy that there's really nothing that can come between Grayson and Jules now and hopefully that means these two will take their relationship to the next level...
Until next week, I leave you with a few of my favorite Cougar Town quotes:
Jules: I can be mean Grayson. Look Travis's favorite poster. (She rips it) Oh gosh, I think I'm going to throw up. | permalink
Jules: (to Andy) I just love our girl time. | permalink
Grayson: What did you do?
Jules: I cracked the code. | permalink
Laurie: Grayson, you're right. it's time to eat the sword. | permalink
Jules: Harsh. But, Ellie and I have a pact.
Ellie: We tell each other the harsh truth no matter what. | permalink
Jules: You guys know each other?
Grayson: Yeah yeah we play roller hockey together. How do you two know each other.
Jules: Grayson there's a thousand different ways that people know each other, but for some reason I can't think of any right now.
Grayson: You two slept together?
Jules: No...
Matt: Yes. | permalink