Desperate Housewives Review: Who is Beth's Mother?
Hillary Malone at .
This week's installment of Desperate Housewives may not have frightened us this week, but at least it offered some excitement.  The gang was in full costume force and the storylines were back on track.
The costumes were solid, too - Renee as Marilyn Monroe, Susan as a creepy doll (did she borrow that costume from Marie Osmond on Dancing the with Stars?), Bree as a cheerleader - but the ideal outfit belonged to Beth: a prison wife.
Apparently, this character is 30 years old; surprising, considering she looks and dresses like she's middle-aged.  You had us fooled, Beth.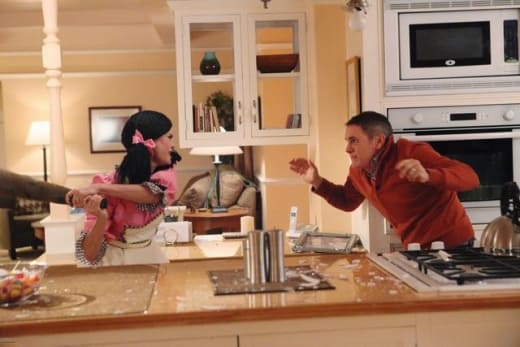 [Photo: ABC]
On "Excited and Scared," viewers were treated to more Beth-based surprises: she's a virgin, and clearly in this marriage to Paul as a favor for her mother. 
But who is her mother?  Could it be Felicia Tillman?  Someone is out to get Paul. He certainly has it coming, so we can't wait to see this unfold. 
Elsewhere, Breith is still going strong, much to our surprise.  The couple has a heart-to-heart about how he has anger issues and she has a drinking problem.  Sounds like a match made in heaven. Brian Austin Greene must really like being back on TV because it looks like he is sticking around.  Could it be a better comeback than Donna Martin?  Too soon to tell.
After a week-long absence, Gaby's duo daughter dynamics are back.  Her doting gets to Juanita the cute dog, while Grace's pretty, pretty princess outfit is also a target. Carlos thinks Gaby needs to lay off for a bit, but Gaby refuses. 
Looks like trouble is inevitable for these little ladies.  Oh, and did we mention that Gaby's other daughter has made an appearance finally?
Speaking of that other daughter, is it interesting to anyone else that Juanita and her little sis look so much alike, but only one of them is actually the biological offspring of Gaby and Carlos? Maybe the little one was switched at birth, too.  Now that would be a good storyline.
Lynette is more and more worried about her mother-in-law and Tom is finally on board with getting her some help.  It was nice to see Tom act as a responsible grown man for once. 
What a far cry from his medical marijuana days.  We were actually touched to see how he handles talking to his mom about going to assisted living.  It seems Lynette's mothering talks are rubbing off on him. 
As mothers go, Susan is now a single mom while Mike runs off to Alaska to make money for them.  My bet is that Susan will indeed get into some trouble while he is away, but have no fear, gallant Mike will save the day – he always does.