NCIS: Los Angeles Review: "Absolution"
Steve Marsi at .
Henrietta Lange is a woman of mystery. On last night's NCIS: Los Angeles, we learned some very interesting things about the Office of Special Projects' diminutive head honcho.
For the second time this season, we were falsely led to believe an NCIS: LA character had a spouse. Hetty doesn't. That comes with the territory, apparently, with secret agents.
What Hetty does have, as revealed in "Absolution," is a BIG secret. About 6'1", 160 pounds. We're talking about Branston Cole, a spy she shot and incapacitated back in the day.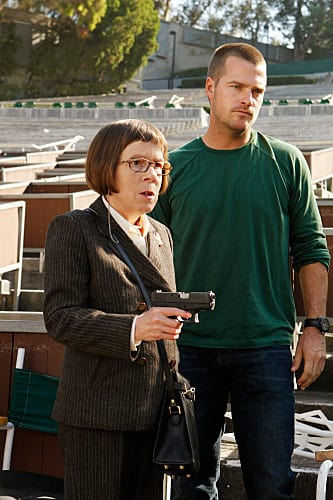 SPY GAME: Do not mess with Hetty. She still plays hardball.
The episode began with the murder of an infamous arms dealer, Kurt Renner. Suffering from terminal cancer, Renner may have been trying to shop his infamous "black book."
That book isn't full of ladies' phone numbers, but Cold War secrets of the most serious nature. Renner got it years ago from Cole, in exchange for sneaking him into the U.S.
Enter Hetty Lange. At some undetermined point in the past, she shot Cole twice, causing him to have a massive stroke and leaving him in a wheelchair, only partially lucid.
She arranged to place him in a retirement home, where she masquerades as his wife, visiting periodically to probe him for info. This is old school, cloak and dagger stuff.
While Callen, Sam, Kensi and Deeks, and Eric and Nell do their thing, Hetty clandestinely works on her own to try and find Renner's killer(s) knowing Cole's life is in danger.
Obviously, you don't gain a position like Hetty holds without decades of field experience and piling up more than a few skeletons - maybe enough to fill the Paris catacombs.
This was our first taste of it, though, and it made for a solid episode, one that drew strong parallels with last night's NCIS, and which we eagerly await the conclusion of.
While NCIS dealt with secrets Vance has been harboring that concern his team members, Hetty's dealings worried Callen and Sam, who went undercover to track the boss.
Hetty slips off and meets Matthias, a (presumably Russian) spy with whom she shares a lot of history. He killed Renner, and wants Hetty to give up Cole's location. Or else.
The mutual respect these spies have for one another even with death on the line made for a great scene. They're on opposite sides, but these two are the best of the best.
Just as Matthias is about to abduct and/or kill Hetty, Callen shoots and disarms him inside the Hollywood Bowl. Unlike her adversary, Hetty knows she isn't in this alone.
Things ended on an ominous note, however, when she returns to Cole's room and finds her faux-husband shot to death as the credits roll. What will transpire next week?
The French intelligence agents Kensi hilariously disarmed on a hunch were just the tip of the iceberg. Every government on Earth is descending on L.A. looking for the book.
Where is it? Does it even exist? What did Cole know and where will the investigation into his death lead? What more is Hetty hiding that she's yet to reveal to her team?
We'll find out next week. After plenty of solid, but unspectacular episodes, it's great to see some additional intrigue and character background from NCIS: Los Angeles.
What did you think of the episode?
Steve Marsi is the Managing Editor of TV Fanatic. Follow him on Google+ or email him here.