Desperate Housewives Review: Paul's (Lame) Plan Revealed
Hillary Malone at .
Great neighbors are the ones who do exactly what they are told... but who will be the one to go against the clan and take Paul up on his offer to purchase their home? 
That's the question on my mind in the wake of "Pleasant Little Kingdom," as one of the residents is sure to take above market value for their property, thereby giving Paul reign to take over the neighborhood. But who will it be?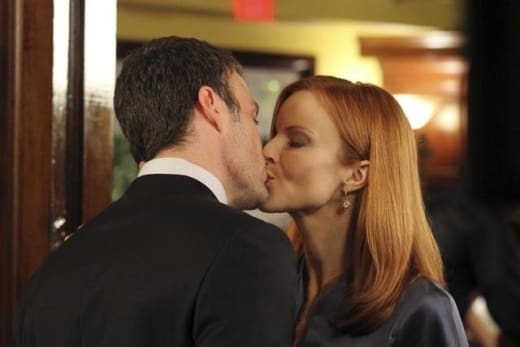 [Photo: ABC]
In other news, Susan had me laughing again this week with her one-liners about Tom's attributes.  It seems Susan might be a little hard up with Mike being away for a few months.  It's a good thing her employers can keep her entertained with their morning nookie session.
But look out Schaivos, Renee is on set on bringing some trouble to this happy household.  Not a very convincing story, though, as I'm just not buying that Renee and Tom had a history and there is just no way he is the love of her life.  Perhaps this is the exit strategy for Renee: try to break up a marriage, fail, and then goodbye Lane. 
Gaby showed some heart this week again, desperate to keep Grace in her life.  She did not succeed, though, and had to send Grace away; we almost feel bad for Gaby and her unknowing bio-daughter.  But no worries, I'm sure Gaby will induldge in some retail therapy and be right back on track in no time. 
Elsewhere, Breith just can't catch a break, as Keith's plans to propose fell apart... again. Also, it looks like Richard may be trying to move in on Bree.  And although I feel slightly bad for Keith, I'm all for it.
Let's be honest, Bree does not need to be shacking up with someone 17 years younger than her all season.  We predict a Breith crumble shortly – and that may get Bree back to what she should be doing: baking some kind of crumble.
I'm glad to finally know Paul's plan for the neighbors on the Lane, but I'm a bit disappointed.  A halfway house?  I was expecting a murder plot, or perhaps some kind of crisis that would hurt everyone.
This scheme seems a bit weak. Before we know it, Bree will be teaching the ex-cons to bake, Susan will teach them how to read, Gaby will be taking them shopping and Lynette will probably ask them to babysit.  At least Paul's plan would backfire in that case.
Overall, the Desperate are getting a little boring this season.  What happened to a good old love affair, or plots to expose secrets of those on the Lane?  We are hoping things heat up in the next few episodes... or we may have to leave the Lane with Renee.