Jim and Stephanie tried to have a normal 18th anniversary celebration on No Ordinary Family this week. But that wasn't in the (poker) cards for the couple.
How sweet was it to see Stephanie give up their dinner table for the man who was going to propose to his girlfriend? It's not too often we see Steph's soft side, and it's so fun to watch her fight crime! How action-packed was that super-human fight with her and the arsonist?!?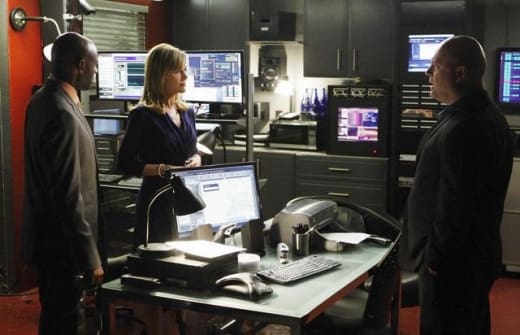 I also loved the way Daphne helped JJ on "No Ordinary Anniversary."
As a girl, I would love to get back at a pervert by letting my brother take the guy's money in a poker game. It was also great to see the siblings work together to repair Jim's home-made gift. If only she could read "Will"'s mind! Looks like Will might know her power and how to block it.
Dr. King just has these super-people running around the city like regular people, doesn't he? Just how many has he created, and how varied are their powers?
Well, one is down thanks to Jim and Stephanie's cooperation. How suspicious of King to take Frances' job just because he wouldn't watch over Stephanie. The poor man just wanted to do what went to school for. Apparently, he is smart enough to wonder why his boss would want him to be spy on his partner, so much so that he followed Dr. King and picked up the super-power substance. I wonder what he'll do with it.
Will got himself into the Powell house thanks to clueless Katie. I have a feeling that's going to be my nickname for her until she finds out what "Will" is up to. Again, now would be a great time for Daphne's mind-reading to kick in. If Will keeps seeing Katie without his super-power supply, maybe Daphne can get a glimpse into his mind.
All in all, "No Ordinary Anniversary" had great action and material. It was my favorite episode this season. The series is improving each week. What did you think, TV Fanatics?