One Tree Hill Review: Lists, Plans... Dan!

Dan Forcella at .
Was it a coincidence that my favorite episode of this season of One Tree Hill happened to coincide with the return of Dan Scott? I think not. 
Although he didn't play a huge role in "List, Plans," his presence more than made up for the few moments of utter nonsense from son Nathan.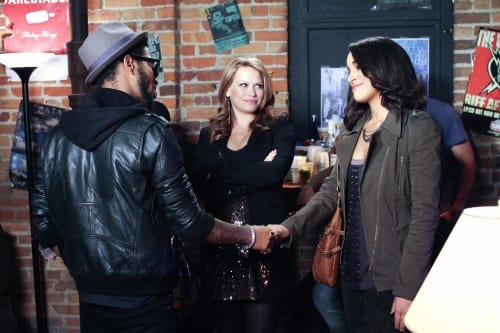 Dan Scott truly is my favorite character on this series.  When he turned around after asking Quinn "What can I help you with?" my face lit up.  He may be one of the most evil men on the planet, but Dan Scott just makes things so darn interesting.  He was so intriguing, as he explained to Quinn all of the things she would need to complete her murder, that I almost passed right over how terrible Quinn was in every scene this week.
But, no, I still noticed it. 
Maybe it was mediocre acting, or maybe it was just that it didn't fit Quinn's character at all that she'd even be thinking of doing this, but I wasn't buying that she was ready to murder this girl at all. 
In the end, Dan, in all of his good guy glory, convinced her not to go through with it.  But was that truly the right choice?  As we later saw, Katie is on her way back to Tree Hill.  Is she back for more of Clay?  Or more shooting?
Elsewhere: Nathan becoming an agent?  Not a storyline I ever was digging.  Nathan going back to college?  Already on board with.  The school atmosphere is something One Tree Hill had been missing for a while, and the idea of Nathan going back to finish his degree just works. 
The conflict that has arisen between him and this professor should play out well, but what still has not is Nathan waxing on about being such a good guy.  That scene where he explained to Jamie why he chose the difficult class was a combination of a sappy life lesson, and a cliched sports story.  Pretty terrible, but pretty expected from Nathan Scott these days.
One sign that I really enjoyed this episode of One Tree Hill is that I have positive things to say about the first three plot lines on which I focus. Number-three is the loveable romanticism between Julian and Brooke.  Everything Julian was doing for Brooke, in making her wish list come true, was just so cute.  He even made the thought of kidnapping babies seem adorable.  That's how good these two have become when they are together and happy.  Let's get to that wedding already!
The Haley story line, as she continued to build up Erin as a fantastic musical act, was nice, but lacked any substance.  The Chase/Mia/Alex plot wasn't working all that well for me this week.  I mean, how could he ever resist that smile from Alex?  Way too ridiculous.  And finally, I couldn't have been happier to have a week off from Mouth and Millie.  I've said it before and I'll say again, if those two never came back I would be very happy.
So we have had a couple of good One Tree Hill eps in a row now.  Do we think this trend is going to continue?  Or will the return of Katie bring us back to some of the ridiculous antics of last season and the beginning of this season?
Other Thoughts:
The opening credits theme song was performed by Aimee Mann.
I loved that Dan was writing down Quinn's murder to-do-list on the same sheet as the burger someone ordered.
Julian's Sean Connery accent was decent.  Brooke's was terrible.
Played by the fantastic Peter Reigert (The Mask, Animal House), Nathan's difficult professor is just a complete jerk. What kind of college professor takes out his frustrations with former college athletes on a dude that comes back to earn his degree?
Are you joking?  Nathan had never heard of an acronym before? This is such a novel idea in the One Tree Hill world?  This is something you learn, as Jamie has, in elementary school!  Ridiculous.
I love that Dan is somehow an expert on killing people.  He did it one time in the heat of the moment, and had nothing to do with covering it up.  He is no expert.
As always, we've updated our section of One Tree Hill quotes. Find your favorite now!
Dan Forcella is a TV Fanatic Staff Writer. Follow him on Twitter.