On this week's episode of 90210, two main characters continued down their path of utter unlikability, while the show set a new standard in speedy storytelling.
Let's start with the latter first: last week, Liam gave Annie a big speech about how they couldn't be together because he didn't wanna mess things up with Charlie. Fast forward to "It's Getting Hot in Here." Annie dumps Charlie; he discovers she likes Liam; he sends Annie a text message from Liam and helps these two get together, just as he happens to jet off to Paris for a semester.
That sure was tidy, fast and convenient! Can Lannie fans actually celebrate now? Or should they await the next contrived obstacle that will break these two up for a couple hours again?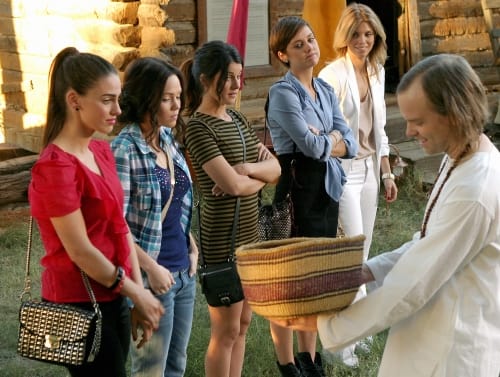 Elsewhere, no viewer can defend Navid at this point. I'm sorry. I know the show tries to paint him as nice, confused guy, but you can't escape the bottom line: he slept with one of his girlfriend's best friends.
Silver is also to blame here, but she was at least in a hazy state of mind. Who among us has not done some questionable things after spending awhile in a sweat lodge?
Conversely, I'm actually happy to see Adrianna continue down her evil path. I've always said the series needs more antagonists, and it's nice to finally have a pair in Adrianna and Emily. More kudos most be passed along for bringing back the adoption storyline.
It's safe to say that continuity isn't 90210's strong suit (remember Jasper anyone? What about Harry's other son?), so even if Adrianna's devolution seems over-the-top and unrealistic, at least the show is using a major event from her past to propel her desperate schemes to the next level.
Naomi as some sort of transformed, spiritual individual also has potential. But let's see how long it lasts.
No Ivy this week. She was probably coming up with more excuses for why she can't surf. Does anyone else want to see her and Dixon give it another try? The poor guy really needs something to do aside from talk about his man boobs (in one of the show's more forced attempts at humor) and get excited over Friday night dinner with his mom.
What did everyone else think of the episode?
Matt Richenthal is the Editor in Chief of TV Fanatic. Follow him on Twitter and on Google+.